(Press Ctrl and "Refresh" in your browser to ensure you've got the latest stories.)
X
X
25 October 2002- Nintendo found guilty of artificial price-fixing
According to The Register, itself quoting the Wall Street Journal, the European Commission has found Nintendo guilty of keeping the price of videogames artificially high by illegally restricting the sales of games from other territories where games are sold cheaper. FairPlay is glad to see the European Commission join the ranks of our supporters...
X
21 October 2002- Heavy losses for Rage
The games industry's claims of economic competence took yet another blow as Rage, one of the few remaining UK software publishers, announced a loss of over £10 million for the financial year ended June 2002, following losses of over £9 million the previous year. The losses came about despite the firm managing to release 15 new games into the market compared to five in 2001, including a David Beckham-licensed football game, which accounted for more than a third of the company's entire turnover. The full story can be found here.
X
21 October 2002- Acclaim loses millions, shares collapse
Giant US software publisher Acclaim saw its share price plunge as it announced a loss of over $28 million for the last three months of 2002, leaving the company with a full-year loss of over $4 million compared with 2001's $17 million profit. The company's share price is currently standing at just 76 cents, compared with a year high of $6.25. Full story here.

21 October 2002- CM 4 and Tomb Raider postponed, escape boycott
Championship Manager 4 from Sports Interactive (see below), which was slated by most sources for a release on December 6, during the FairPlay boycott week, has had its release put back until early 2003. The publisher of Championship Manager, Eidos, also announced that the new Tomb Raider game, which was previously scheduled to be released shortly before the boycott week, has also been delayed until 2003. We are sure there is no connection between these facts and the FairPlay campaign.

16 October 2002- FairPlay speaks to Peter Molyneux
The FairPlay campaign has conducted an interview with Peter Molyneux, one of the industry's most successful developers ever and chief of Lionhead Studios. Read it here.
X
7 October 2002- FairPlay press release #2
The industry has continued to mount smear attacks on FairPlay rather than tackle the issues raised by the campaign. We respond to the content of those attacks here.

4 October 2002- FairPlay's first lawsuit departs
Following our disclosure of Sports Interactive's legal attack, it appears the threatened lawsuit has now been withdrawn. The quote concerned remains in place on the website.

4 October 2002- FairPlay's first lawsuit arrives
The games industry, a bit stuck for a plausible defence of its pricing strategies, today used an alternative approach to try to silence the FairPlay campaign, by serving the campaign with its first lawsuit. Sports Interactive, publishers of the highly successful Championship Manager series - which, ironically, achieved its success in part by selling most of the game's updates at £20, rather than £40 - set its lawyers on the campaign over a quote on this website suggesting that lower-priced games sell more copies. Obviously we can't go into too much detail right now, but we'll keep you posted on the case. We are not currently alarmed.
X
3 October 2002- FairPlay press release #1
The campaign's response to the series of vitriolic personal attacks launched by the games industry on October 2.
X
27 September 2002- Capcom predicts huge losses
The latest industry giant to announce massive losses is Capcom, owners of the massively successful Street Fighter and Resident Evil franchises, along with many more. Despite these popular and big-selling titles, the company has amended its profit forecasts for the year ending next March from a profit of £2 million to a loss of £66 million. Once again, even a publisher with popular and chart-topping titles is unable to turn those sales into profit, appearing once more to demonstrate that the games industry's current economic strategies are hugely flawed.
X
19 September 2002 - Big software publisher's catastrophic results
French software publisher Infogrames, one of the largest companies in the industry and the owner of former British companies like Ocean, recently published a disastrous set of financial figures, posting losses of around £50 million despite a sales increase of 14%. The company now has total debts of around £250 million. The firm's share price has collapsed by over 80% in the last year - in an attempt to reassure investors and reduce costs, the company is said to be preparing to lay off around 33% of its entire European workforce.
Bruno Bonnell, the president of Infogrames, has expressed the opinion repeatedly that cheaper games are necessary for the videogames industry to survive and prosper. However, the current licensing arrangements of console manufacturers effectively make it impossible for Infogrames to pursue this policy. The results are obvious.
X
5 September 2002 - Eidos losses continue
Eidos, the UK's last surviving major software publisher, announced its results for the last 15 months. The company, despite owning the massively successful Tomb Raider, Who Wants To Be A Millionaire, Commandos and Championship Manager lines of games, lost £30.7 million in the 15-month period, which was at least an improvement on the company's 2001 losses of £111 million. Shares in the company, once valued at over £12 each, currently stand some 90% lower, at 120p.

Clearly, while the industry currently survives by milking its big hits, even ownership of four of the biggest-selling hit series in the business is no guarantee of making a profit with the current economic model.
X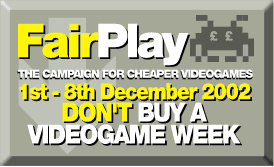 >>

<<