The most important thing you can do to support FairPlay's campaign is participate in the boycott. But there are also lots of other ways in which you can help to improve our chances of success.
X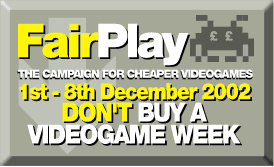 X



Several newspapers and magazines have already promised coverage to the campaign. But the more the better. Contact your local press and TV. Write letters to national newspapers. Post messages in relevant Internet forums you use. Add one of the link banners (above, below) to your own website (you could also run a story on the campaign), and remind people about the campaign as December approaches. If you run a games website with links to game sellers like amazon.co.uk, why not remove the buying links during the boycott week, and/or replace them with FairPlay banners?
X
We also have available an image that you might like to use in any larger features about the campaign. Click here for a preview and a downloadable high-resolution version.


Below is a simple black-and-white A5-size leaflet for printing out at home or at work (two copies to a page, remember to scale to correct size/orientation before printing). On the opening weekend of the boycott, hand out copies to shoppers in the street outside your local game stores. Alternatively it could be scaled up to A4 and used as a poster.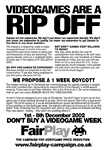 Click on above image for high-res (255k) artwork JPEG then 'Save Picture As...'.


Even better, get together with some friends and make an event of it. A bunch of people dressed as Lara Croft or Sonic The Hedgehog, for example, standing outside game stores and demonstrating about rip-off game prices, is irresistible to local TV news. Use your imagination to grab the attention of passers-by and media alike. Don't forget to ring the TV station... (And do send us any photos for our news section.)


Petitions by themselves don't tend to achieve much. That's why the FairPlay campaign focuses on boycotting as by far the most effective and practical way of achieving our aims. However, a good petition with many thousands of signatures will give an excellent demonstration of the level of ongoing support for the campaign, and provide extremely useful information for any media that wants to write about it. (Who knows, if enough people sign it, maybe the industry will cave in before the boycott even takes place..?) It only takes 10 seconds to sign the FairPlay petition, so why not do it right now?
X
(NB If signing the petition, please use your real name. It doesn't do a lot of good to have lots of signatures from people called "Platinum Chihuahua".)


Are you a games developer, or any other sort of games industry employee? Do you think that overpriced games are damaging your company? Then stand up and be counted. Send us a message of support and join the growing list of our industry backers.


Do you know anything we don't? Got access to any interesting figures/stories/photographs? Let us know.


Remember, the more people know about FairPlay, the more people will join in, and the bigger our chances of success will be. If enough people take part, we WILL succeed. So spread the word. Let's see these banners on every single videogames website on the Internet.
Note: Right click and 'save as' to download images.
ATTENTION: Magazine/Newspaper Editors
you can obtain your HIGH-RESOLUTION Fairplay logos by right-clicking HERE
email us if you require vector artwork or press releases.
>>

<<