GRAVITATE ME HOME
Stu's Happy Half-A-Week
One of the problems with inheriting an obstreperous set of principles from your parents is that sometimes it leads you into situations and places that, by most rational measures, really wouldn't normally be worth the bother. Sunderland, for example. But now and again even the most unpromising of scenarios can bring one great happiness, and it's in this educational and salutary spirit that WoS brings you an inspiring travelogue of its host's latest adventures. Why not read on, viewing chums, unless you've got something better to do?
WEDNESDAY 11 JANUARY 2006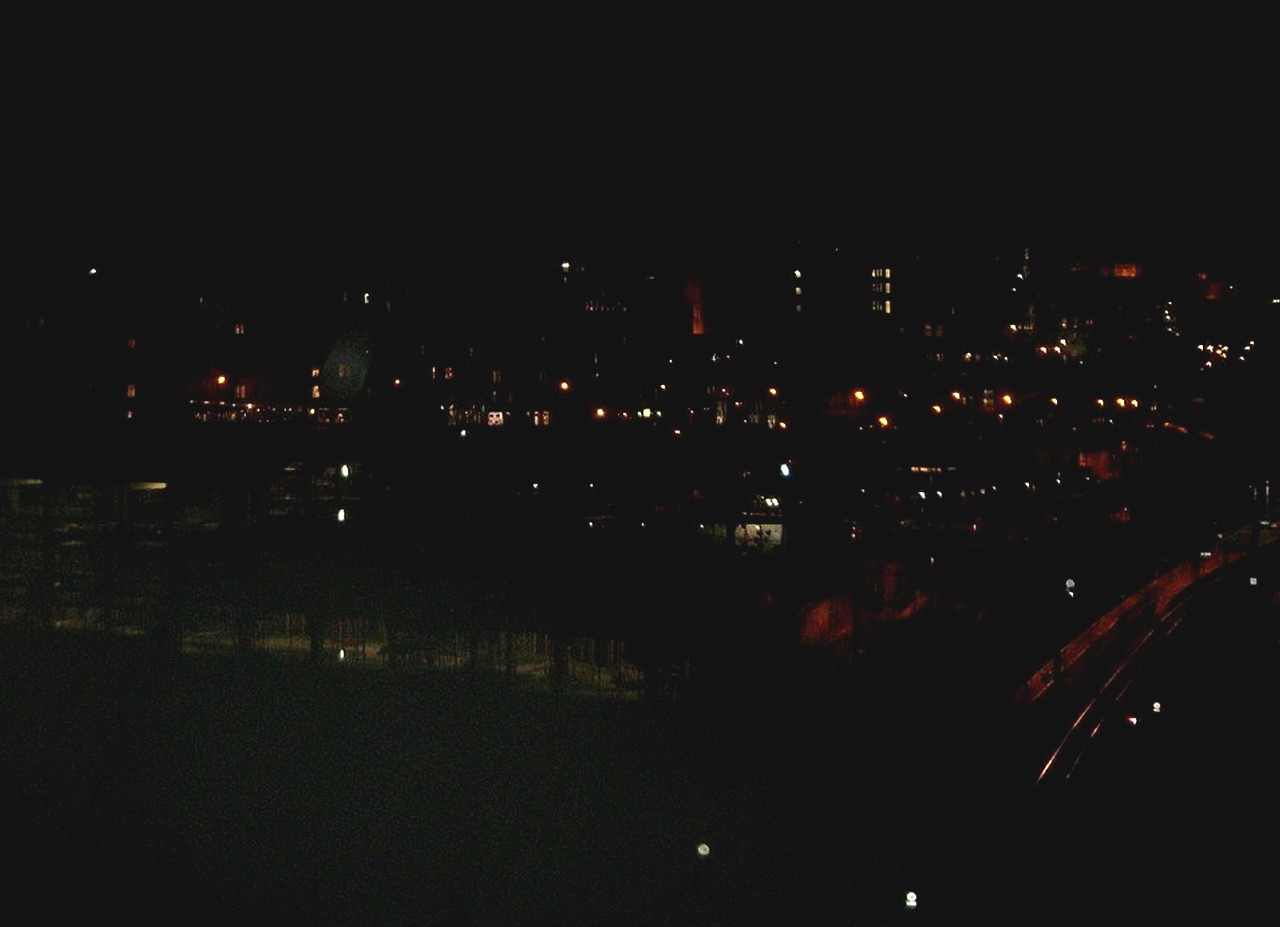 A city far from Bath, at night, nearly yesterday.
Late in 2004 I was cold-called by a "credit management" company who promised me that they could help with a tricky debt-recovery issue I'd been trying to resolve for some time. After checking their credentials with Government House, they seemed to be above-board, and to have certain powers not granted to ordinary member of the public that would indeed assist with the matter, so I paid them £300 to go to work on my behalf. I'll spare WoS viewers the long, astounding litany of inactivity and incompetence that unfolded over the next nine months, suffice to say that at the end of it I wanted my money back. On, unsurprisingly, getting no joy from direct complaint, I filed a case with the Small Claims Court, friend of the poor and downtrodden and a Godsend to your reporter over the last few years in a world where increasingly, freelancers just can't get paid.
When the court, unusually, decided to allocate the case not to the claimant's local court but to the defendant's, it seemed - especially as the time drew near - worth reflecting on whether it might not be better to let this one go. Times are a little hard at WoS Towers at the moment, and with the case (in its briefest form, the company lied in its initial phone call about what services it would actually provide for the money) boiling down to one party's word against the other, with next to nothing in the way of hard evidence, the prospect of forking out well over £120 on a train fare plus all the other expenses involved in such a long trip seemed to pose a serious risk of simply throwing good money after bad. But that's when those pesky principles rear their head. Wrongdoing must be punished. Justice must be upheld, whatever the risks. Off to flipping Sunderland we go, then.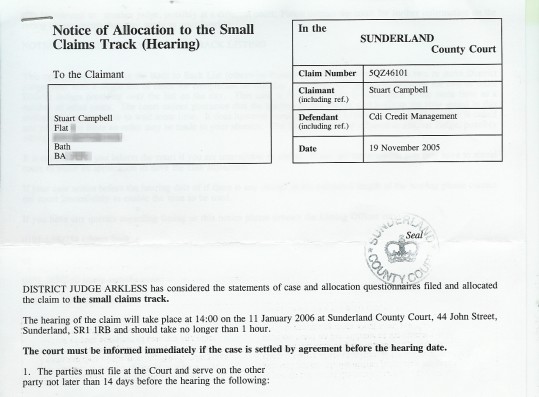 Click the pics for big-o-versions, as usual.
To avoid an expensive overnight stay, your ethically-driven reporter duly hauled himself out of bed at 4.30am on the 11th, and a little later blearily stumbled onto the morning's first train to the North out of Bristol Temple Meads station. Having allowed, from bitter experience, a 90-minute margin of error, it came as some surprise when the extremely comfortable and clean Virgin Trains service pulled into Newcastle bang on time, and a short hop on a waiting Metro tube left well over an hour to kill in Sunderland before the hearing. Fortunately for sensitive viewers, I'd left my camera in my bag at Newcastle station's left-luggage office, because you really don't want to see pictures of Sunderland city centre in daylight. Yikes.
I expect they get a lot of suicides in Sunderland County Court, but fortunately there was only a 30-minute delay to be endured in its unimaginably bleak waiting rooms until the hearing got started. CDI Credit Management had sent along as their representatives an attractive young woman, and a scruffy man in a wheelchair who I'd had no previous contact with, but who turned out to be one of the partners in charge of the company (and presumably the reason the case had been moved from Bath to Sunderland). That was the end of their cunning, though, as they'd inexplicably forgotten to bring along any of the documentation they continually referred to in their attempted defence, or any obvious witnesses such as the person who had actually called me (still employed at the company), or even any statements from said person, and after a surprisingly lengthy hearing in which the diligent lady judge sought meticulously to grasp even the tiniest details of the claim, judgement was duly delivered in full favour of the plaintiff, including expenses. Result!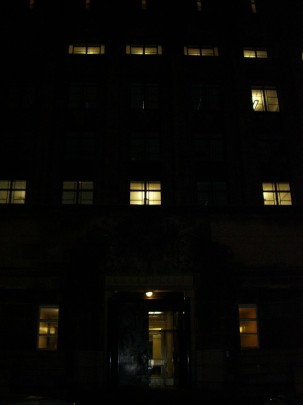 Sunderland looks best like this.
By now it was already dark, and time to leave the dingy-but-imposing Victorian court building (whose 4pm closing time we'd considerably overrun) and head back to Newcastle for a connecting train to your reporter's beloved homeland. (After the long hearing, sadly there was no time to either go back and buy some celebratory treats from the tremendous Sunderland sweetshop I'd found while killing time earlier, or wander around the city on the Tyne, which your correspondent has always had a fond regard for.)
It was almost five long years since I'd been back to Scotland (for one reason and another), so excitement built as familiar landmarks started to appear out of the darkness approaching Edinburgh Waverley. As we pulled into the station, my MP3 player seemed to know, and randomly plucked three unmistakeably Scottish songs in a row from its 40GB memory. I was so happy and full of joy that I don't even mind telling you that I stepped out of the train onto my native soil, for the first time in half a decade, to the uplifting sounds of "Halo", by Texas. Yeah, I've got a Texas song on my iRiver. Want to make something of it, pal?
A little over half an hour later, my body catching up with my mind, I was back in Bathgate.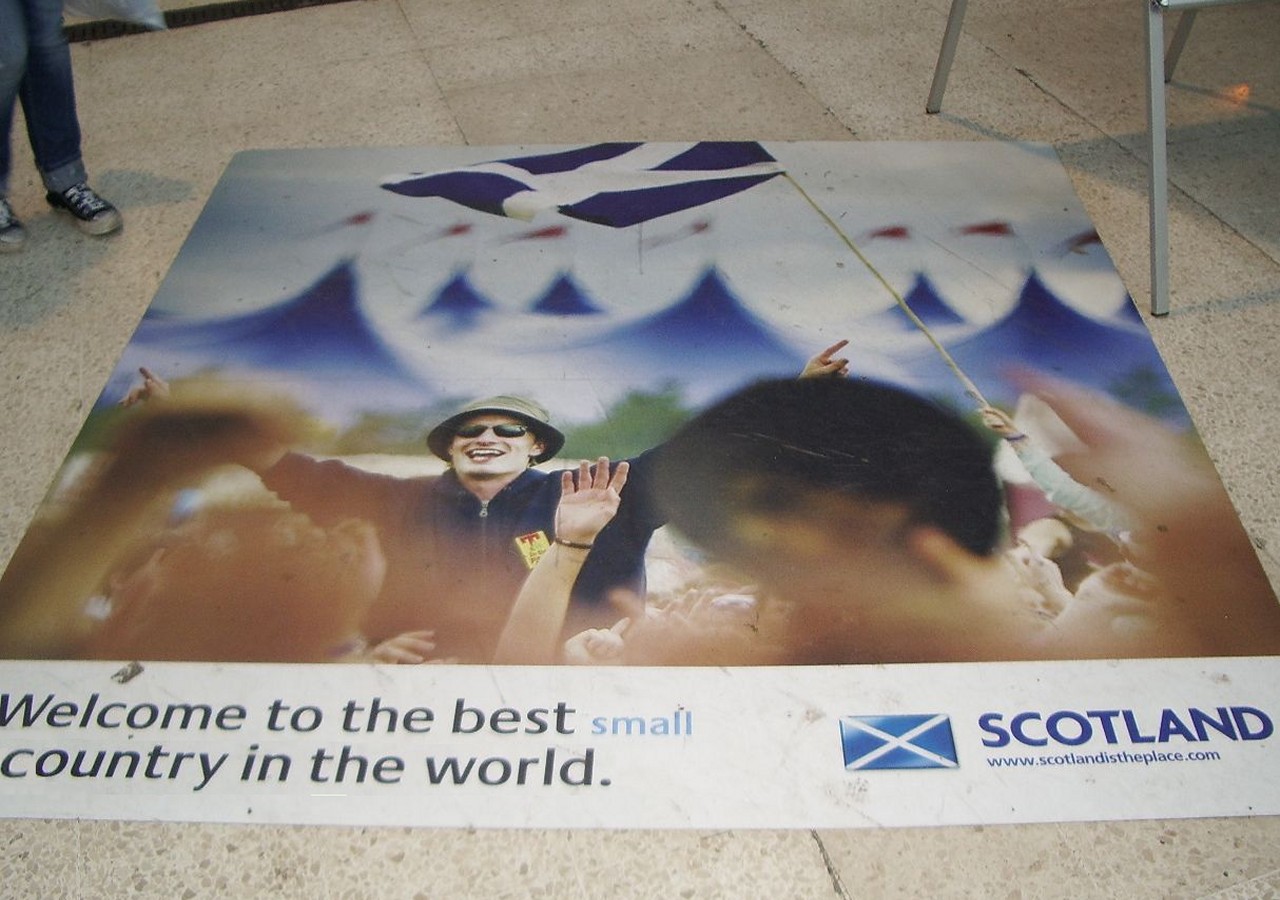 The modest message inlaid at a jaunty angle on the tiled floor of Waverley station.
Especially since I've lived in England, where people (mad people, but plenty of them) are prepared to regard the 120-mile journey from Bath to London as a viable commuting distance, it's long been a mystery to me that Bathgate wasn't a more sought-after town. It had a pretty rough time in the 1980s - like much of Scotland did in Mrs Thatcher's tender care - which did nothing for its image, but it's a fairly well-appointed town, with a rich history, in a location that's bordering on idyllic. From my parents' house, a two-minute drive will take you onto the main M8 motorway linking Edinburgh to Glasgow, of which Bathgate is almost at the midpoint, barely half an hour's road journey from either city. (The rail link is even quicker, delivering you to Edinburgh in luxurious comfort in just 25 minutes.)
It would be hard to imagine a town better placed, then, for taking advantage of the possibilities of not one but two major cities (and the huge "new town" of Livingston, just four miles away), slap bang in the heart of Scotland's industrial and cultural centre - and where until very recently you could still buy a nice little modern two-bedroomed house for less than £50,000. And yet, a two-minute drive in the opposite direction will find you here: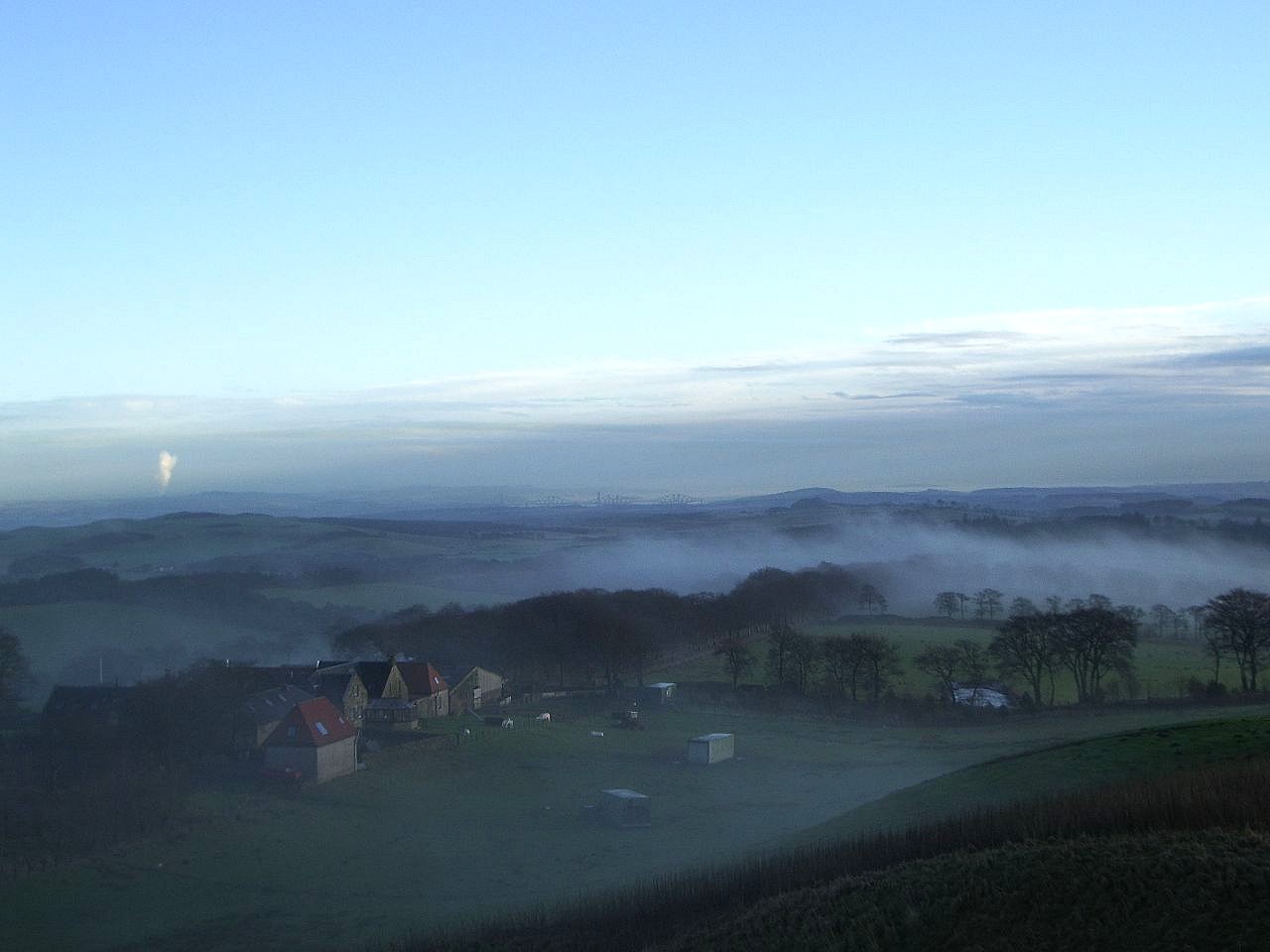 Early-morning mist over the Bathgate Hills. That's the Forth Bridge in the distance.
THURSDAY 12 JANUARY 2006
The picture above, like the others in this section, was taken from the top of the Knock (Gaelic for "the hill"), which is slightly over a mile from my mum and dad's house on a quiet council estate on the outer edge of town. (When I was young, we'd walk up to the Knock with friends and neighbours to roll Easter eggs.) The pics here were actually shot on Friday, but that had been my second attempt to reach the summit - I first went there on Thursday morning, but had to turn back three-quarters of the way up the hill after being literally blown off my feet and sent tumbling by the freezing, vicious gale-force winds howling along the length of the Forth Valley. The wind was so strong it was physically impossible to breathe while facing into it, as tangibly solid as a brick wall, and I'd briefly but sincerely feared for my life as I tried to get back down to a more sheltered spot without being either suffocated, or picked up and hurled off the edge onto the rocks below as I turned my back on it.
When you've been away from Scotland for a long time, it's easy to forget that it's a very different country, climate-wise, to its more pampered southern neighbours. (As well as in surprisingly many other respects.) In Bath, even in the depths of winter, it's nearly always possible to go out for the milk in jeans and a t-shirt. Try it on the Knock (and Bathgate isn't anywhere near the truly exposed highland half of Scotland) and the wind will slice through your bones like a claymore through blancmange. (When people talk of inclement weather making them feel "glad to be alive", it's not because they like being cold, but because you're suddenly aware of the notion of just how easily that fact could be changed, simply by finding yourself in the wrong place at the wrong time wearing the wrong clothes.)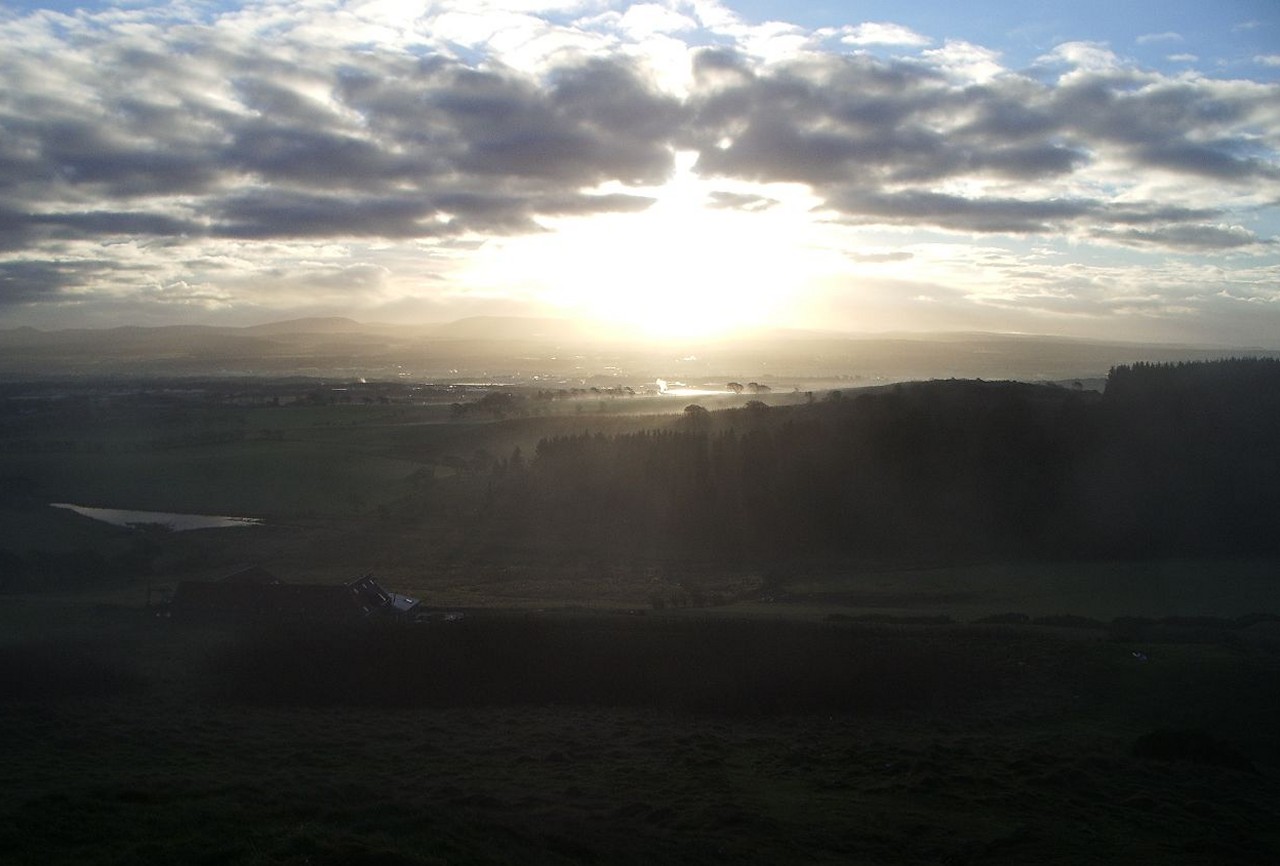 The sun was just coming up as I took these pics,
hence the digital camera struggling with the light.
More surprising, though, is that even though the Knock is located in the very middle of Scotland's most densely-populated industrial belt, right on the main route between several substantially-sized towns like Bathgate, Linlithgow, Bo'ness and Falkirk, and directly adjacent to a site of major historical interest, there's rarely a soul to be seen there. Even on a warm and sunny summer's day, if you grab a strawberry tart and a bottle of pop from a baker's in town and cruise up to relax and enjoy the views in your lunch-hour, chances are you'll have them to yourself, and you'll be unfortunate if as many as half-a-dozen cars pass by to disturb the tranquility before it's time to go back to the office.
(After 15 years of living in England, the one thing I still can't get used to is how damn crowded it is here. There are plenty of places just outside Bath that resemble the area around the Bathgate Hills, but every one of them is clogged solid with traffic 20 hours a day. For the love of humanity, my Sassenach pals, would you please just stop breeding all the damn time? There are enough people here already.)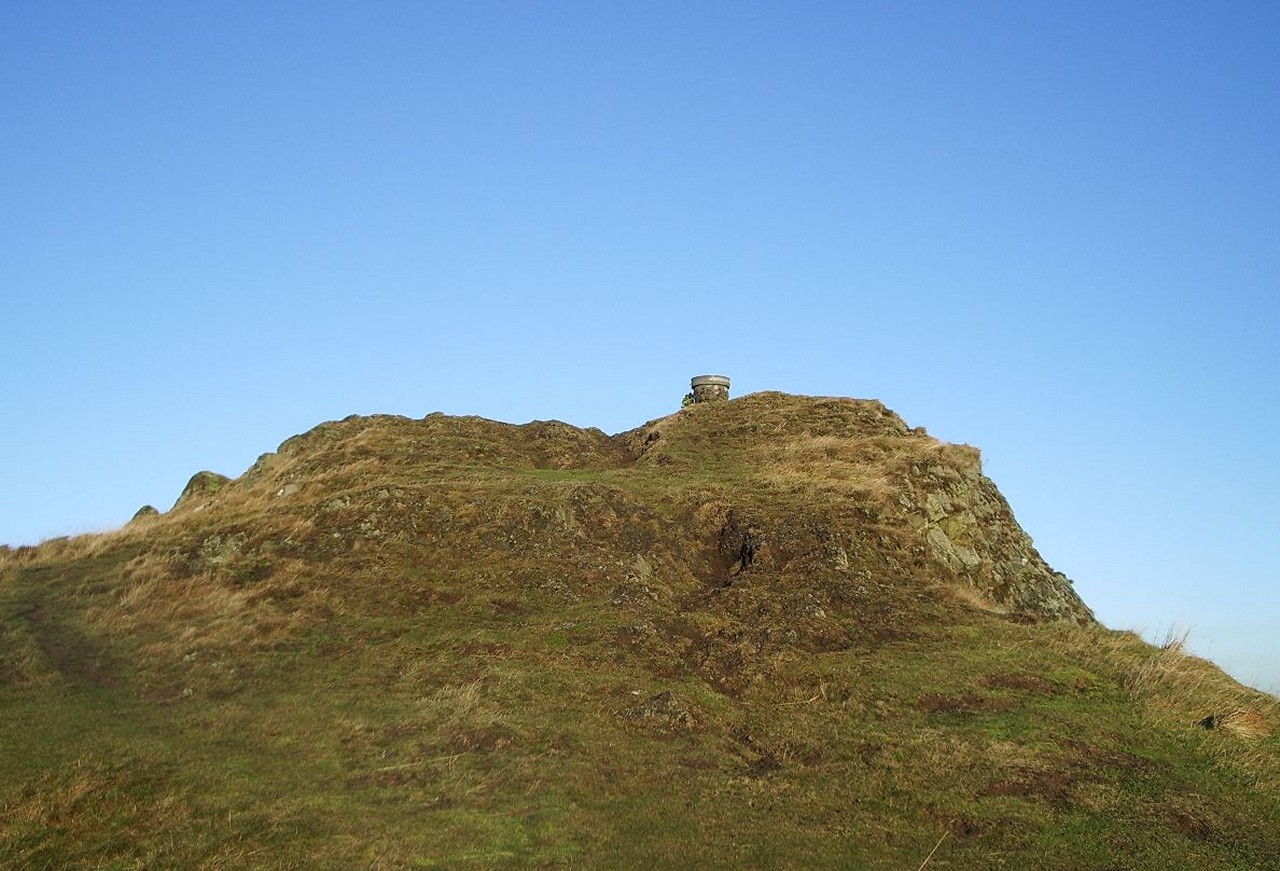 The summit of the Knock.
This picture and the previous two were taken just five minutes apart.
Anyway, we've gotten a little bit off the point and ahead of ourselves. After winding down on Wednesday night from a long, hard day of travelling and fighting for Justice, by delivering the late-Christmas and early-birthday presents I'd brought up with me and finishing the Chris Brookmyre novel I'd started on the train (not his best work by any means, but still a rip-roaring action thriller that made the journey fly by), on Thursday morning I got up, failed to climb the Knock, and then went out on a long-anticipated mission to search for a personal Holy Grail, only to find it in the very first place I looked.
KP Mini Chips are one of the great secrets of the potato-crisp world. Nobody's heard of them, even an experienced snack-hunter like your reporter hasn't been able to track any down for over seven years, and KP themselves are bizarrely enigmatic about the subject. Mini Chips (which have been part of their product range for over 30 years) don't even get a mention on the company's website, and if you ring up and ask them straight out, they'll eventually admit to making them, but will absolutely refuse to divulge the name of a single retailer or wholesaler from whom hungry would-be consumers might go about purchasing some. How on Earth they ever get into any shops, then, is something of a mystery, and one this correspondent has long suspected is part of some kind of elaborate tax fraud, whereby a single token case of Mini Chips is produced each year in order to take advantage of some kind of obscure EU subsidy, and then immediately taken out and dumped in the North Sea.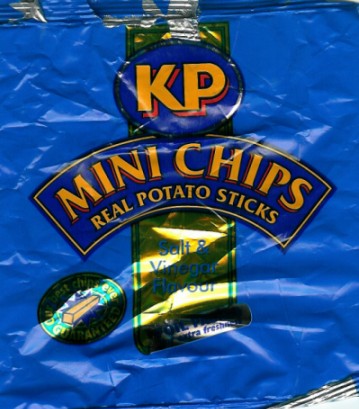 Snack heaven in a little blue bag.
The picture above, however, tells a different story. I walked into the little "Top Shop" store a couple of hundred yards from my parents' house, and actually let out a little involuntary gasp. Right there, bold as brass, like it was the most normal thing in the world, in amongst all the soon-to-be-extinct Golden Wonders, sat a whole tray of packets of salt'n'vinegar Mini Chips. Like Charlie just before he finds Golden Ticket in Charlie And The Chocolate Factory, I tore the packet open with feverish excitement the second I left the shop, and found out that they were just as good as I'd remembered. So I went back in and bought another 29 packets. I'd subsequently find Mini Chips in two other shops in the Bathgate area - including the beef variety which I hadn't seen in at least ten years - but nowhere else, in any of the countless grocers, newsagents and supermarkets I looked in right across the breadth of the country, serving hundreds of thousands of people, were they to be found. It's impossible to imagine how this could conceivably be a profitable line for KP, when it's on sale almost nowhere. Frankly, I still think there's something in the "tax dodge" theory.
The rest of the day was swallowed up by reconstructing my dad's PC (recently destroyed by a virus), and then hurtling (or at least, as close as my mum's Fiesta would come to a hurtle) around the west of Scotland visiting as many aunties, uncles, cousins and friends as I could fit it (and also fixing their defective electronic equipment), marvelling at how pleased people seem to be to see you when you've been away for half a decade, before racing back home to treat my parents to dinner (cheers, CDI Credit Management) via the finest Chinese restaurant in West Lothian, just in time before my dad keeled over through lack of insulin.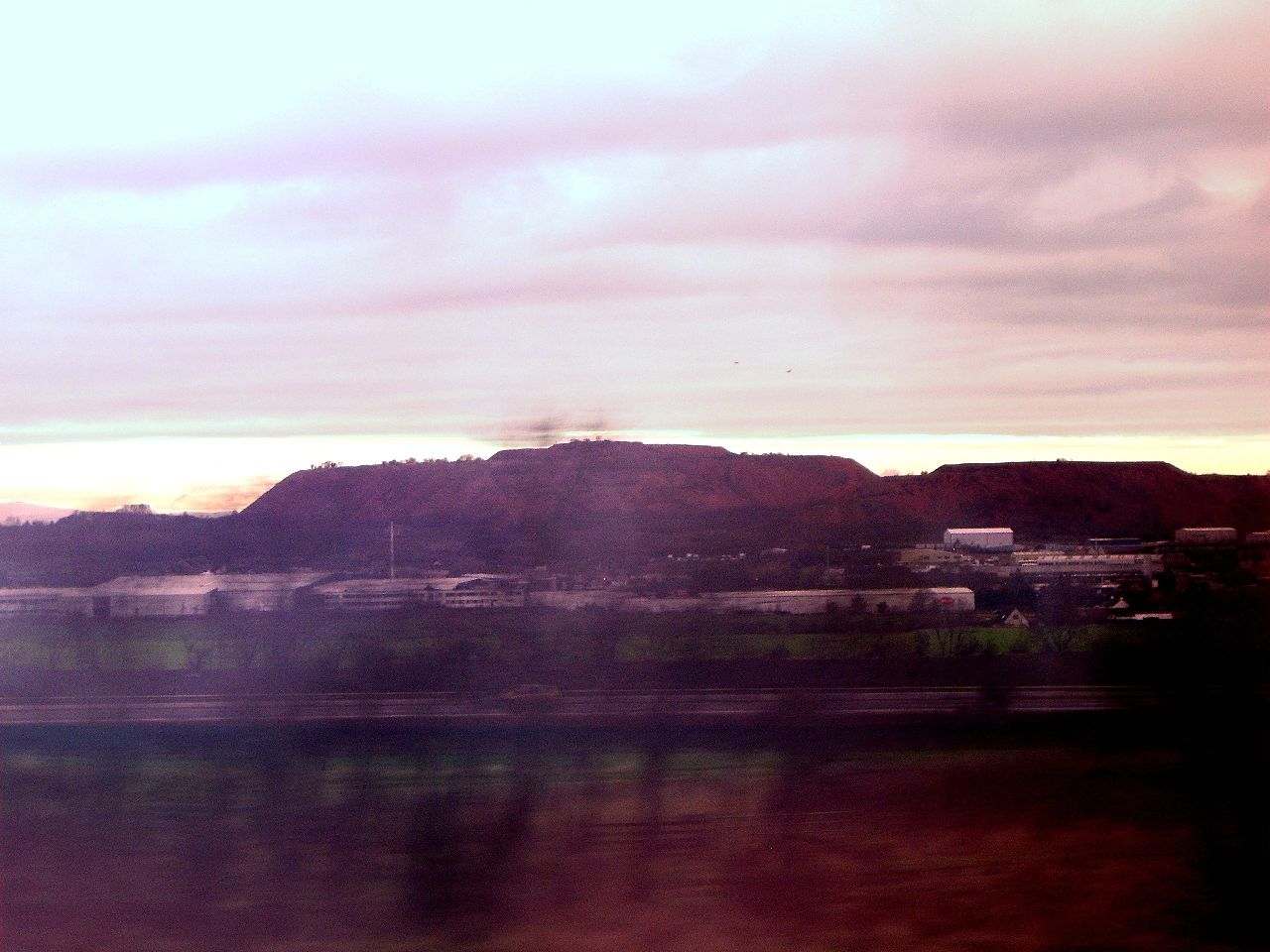 A mountainous red shale bing, of the type scattered around Bathgate (see earlier link).
(The poor-quality shot is a result of the picture being taken from a moving train.)
FRIDAY 13 JANUARY 2006
Having dealt with my commitments to the western side of the country, Friday would be dedicated to revelling in the joys of the finest, most beautiful city on Earth, because Friday was Edinburgh Day. The grand old lady of Scotland must surely also be the most dynamic city in Britain - every time I go back it's barely recognisable, with huge new buildings everywhere, the landscape, skyline and roadmap in a constant state of flux. (This currently seems to be true of Scotland as a whole - Bathgate, fundamentally unchanged for decades, is now absolutely teeming with new and extensively-renovated buildings, with literally thousands of new homes and commercial properties having appeared in the five years since I saw it. Whole new mini-towns have sprung up on formerly long-derelict land, and all the gaps between the centre and the outlying villages are fast filling. It took everyone a long time to spot the town's potential, but they're making up for lost time at a terrifying pace.)
As I walked up my favourite street in the whole world (Cockburn St, as goth-tastic as it ever was) and then strolled down the Royal Mile heading for Casey's (Britain's best sweetshop, official), it occurred to me that while I was in the vicinity I really ought to check out the highly-controversial £400m building housing the body that some credit for Scotland's rekindled sense of confidence and self, and the attendant economic boom - the Scottish Parliament. Nestled beside Holyrood Palace, the extraordinary building designed by the late Catalonian architect Enric Miralles is hard to do justice to in either words or pictures.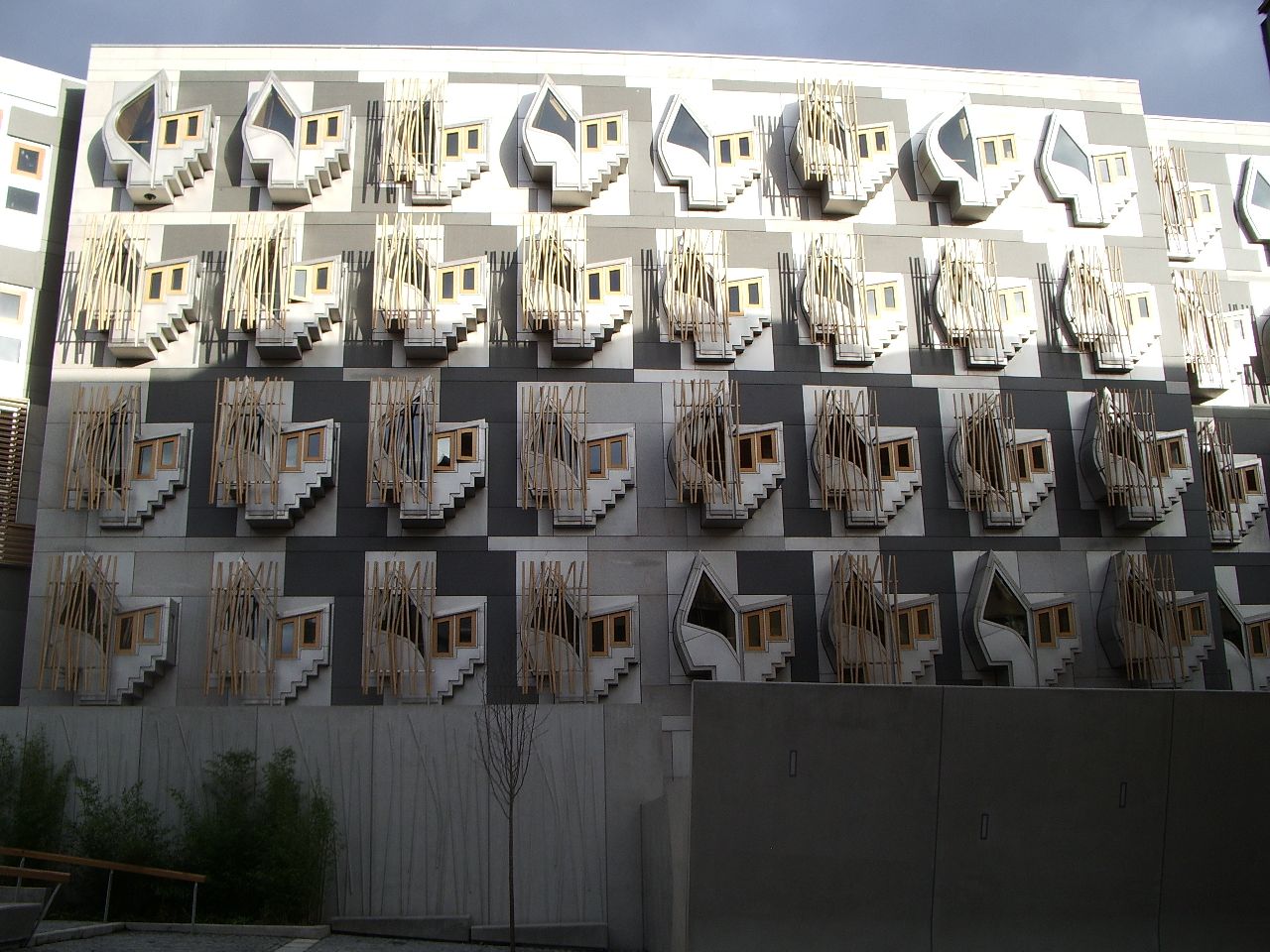 This is where all the MSPs live, in sort-of pretend prison cells.
To fully appreciate its batshit weirdness you have to walk all the way around it, taking in all the different bits as part of a coherent whole, and see it in the context of its setting, linking the Old Town to the foot of the majestic Arthur's Seat. It's easy to see why some describe it as a grotesque neo-Cubist monstrosity, and given the wildly runaway costs of the project (over 10 times the original budget), it's certainly likely to be many years before Scots can reflect dispassionately on its architectural merits, but what can't be denied is that it's an utterly striking building that has to be viewed in all its stony, proud reality to be understood.
Already reeling with stunned awe, I stumbled inside, and after a thorough frisking and X-raying, was relieved of my Swiss Army knife, lest I attempt to disembowel any of my people's elected representatives with a corkscrew and nail-scissors. The interior of the building is like being inside a honeycomb, dizzyingly complex yet open-plan, all glass and oak and soft, warm lighting, with guides/guards posted at every corner to assist the bemused.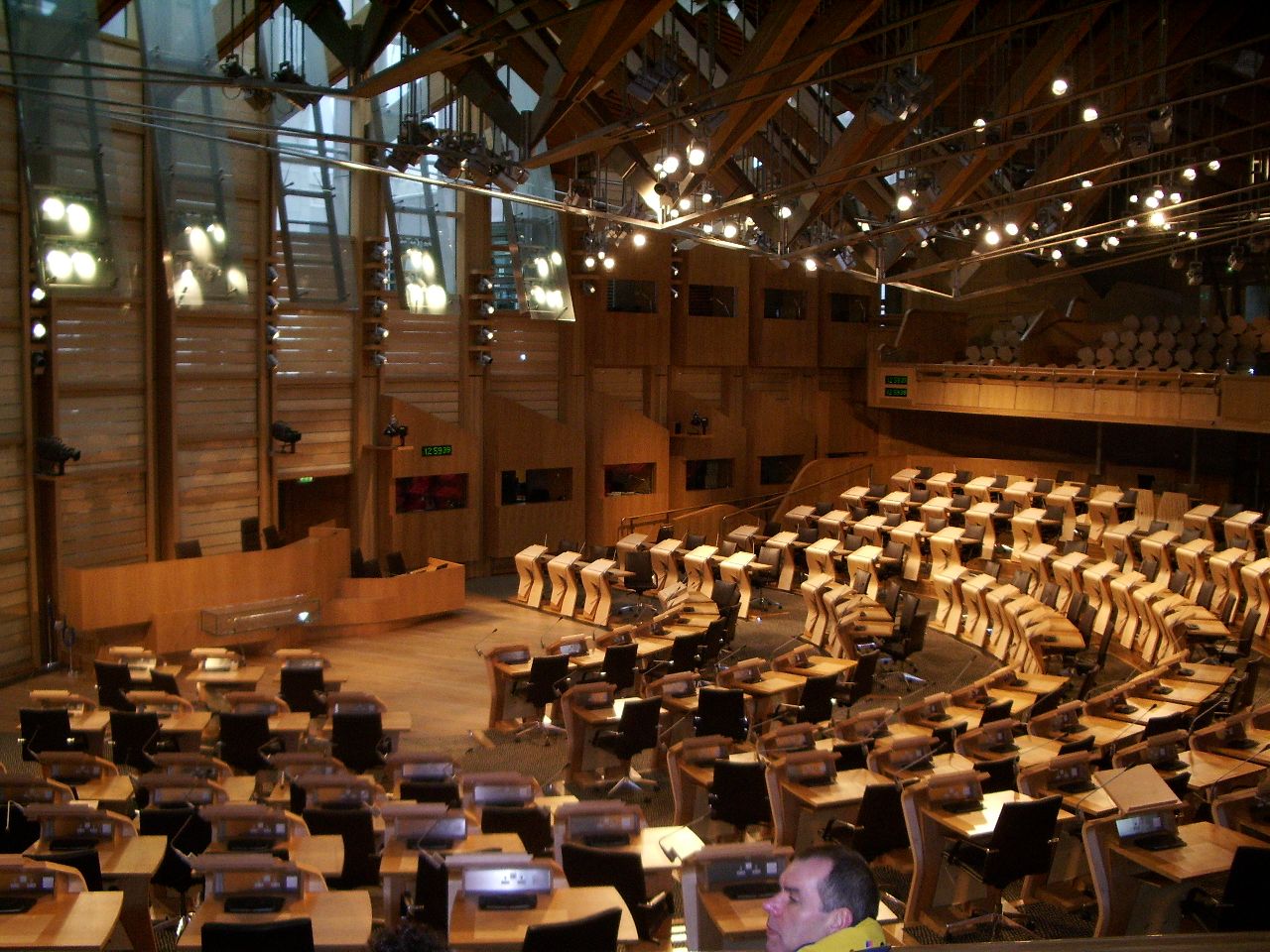 "This is the most disappointing LAN party ever."
Any attempt at armed revolt was in any event scuppered by the fact that the chamber only holds session on Tuesdays, Wednesdays and Thursdays, so after a few minutes of banging into spotlessly-invisible windows, sliding across polished marble-and-granite floors, and wandering up and down deserted Escheresque stairways, I retrieved my weaponry at the door and emerged blinking (as one is obliged by convention to do) back into the sunlight.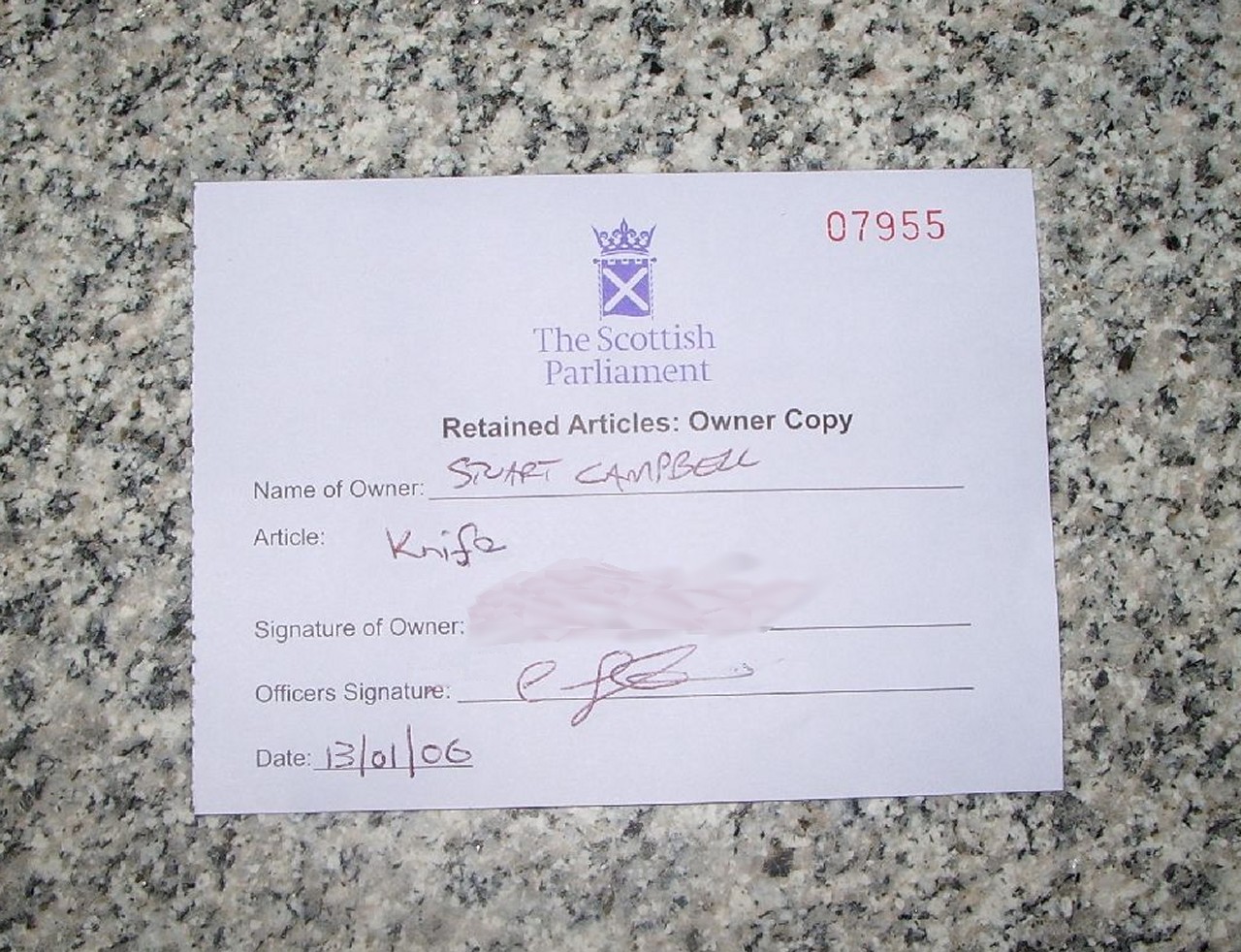 Yeah, like I'm going to give you all a forgeable specimen of my signature.
Stopping off to visit the Museum Of Childhood and stock up on homemade sweets - which I hadn't wanted to be lugging around the Parliament - at Casey's (hot tip: Ginger Drops and Kola Cubes, one of each at a time), your reporter spent the next couple of hours engaged in a happy nostalgic tour of the sites of his long-lost youth, fondly noting the hardy survivors and mourning the ones demolished in the name of progress, eventually covering the couple of miles to Haymarket station and returning to Bathgate for some incomparable home-cooked dinner before heading back to Edinburgh for a glorious traditional reunion of drink and the sort of flowingly abusive banter you can only trade with the truest of friends, with some old chums in the magnificent, bustling surroundings of the Café Royal.
English pals - I will never, as long as I live, understand how you can drink that sour, flat, watery sewage you call beer. Have a pint of proper heavy one day and live a little.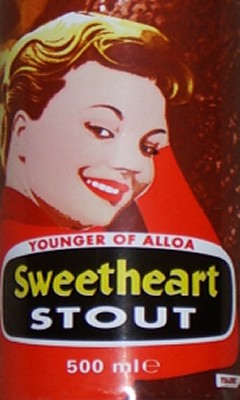 In a perfect world, mix half a pint of McEwan's 80/-
with half a pint of this nectar, and die of happiness.
SATURDAY 14 JANUARY 2006
Time's getting tight. Both full days of the holiday itinerary are over, there's a train to catch, there's lots still to do, and your intrepid correspondent's got a hangover. Let's go!
Alert viewers may recall WoS' first excursion to one of Britain's ghost villages. But there's an even spookier one than Imber, and it's just a couple of miles from Bathgate. Bangour Village Hospital was a facility for the mentally-ill, which I was surprised to discover had still been in operation as recently as mid-2004. Designed to provide a more natural environment for patients with dementia or psychiatrist disorders than the cold, clinical wards of a general hospital, Bangour was also where my own paternal grandfather spent the last few years of his life after suffering a severe stroke that left him in need of full-time professional care. But the 220-acre site occupied a prime location and was sold to property developers, the patients moved to the far more institutionalised surroundings of the new St John's Hospital in nearby Livingston. Can't have sick people getting in the way of good business, can we?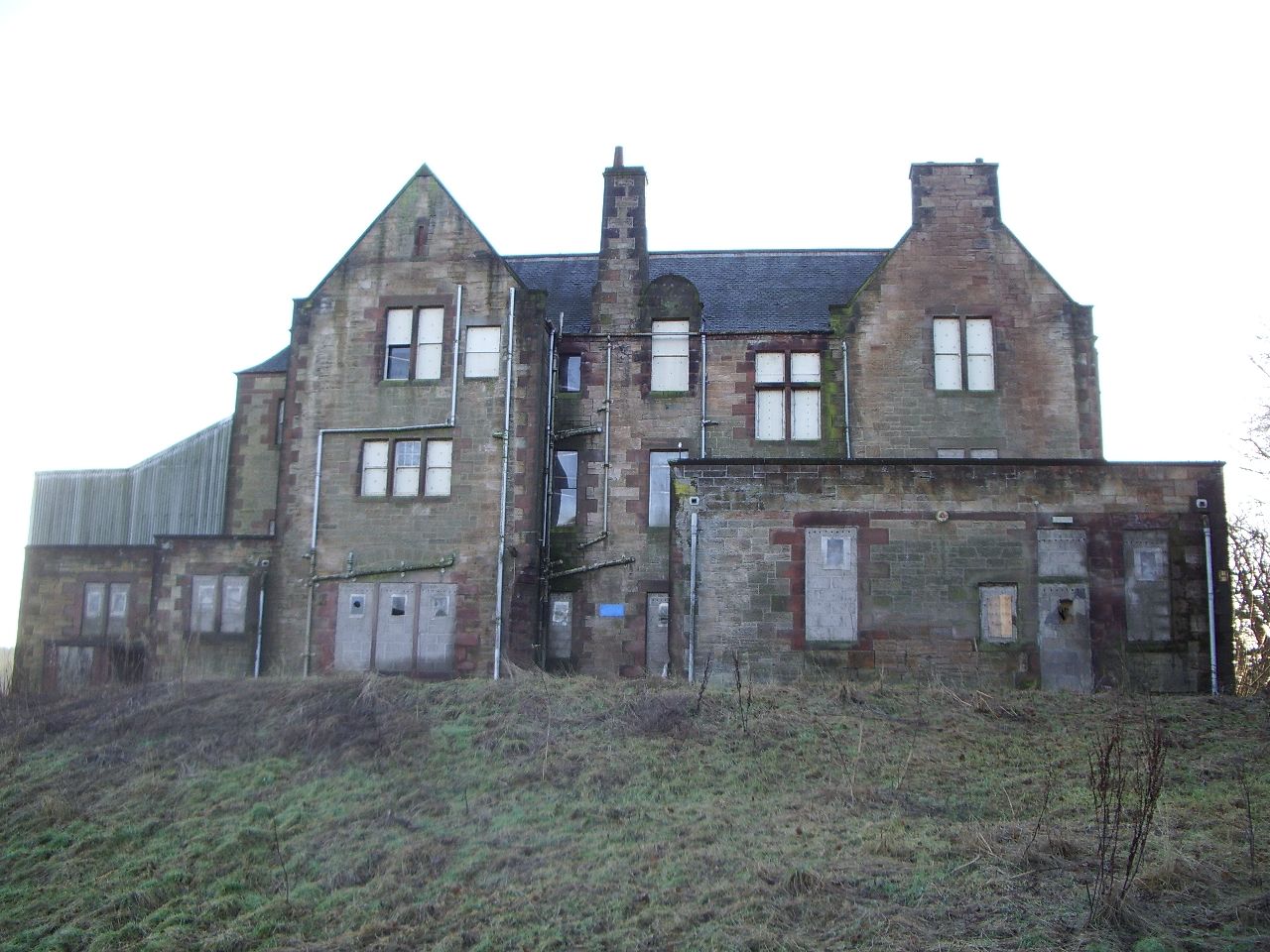 Most of the "villas" (Bangour didn't have "wards") are set on raised bits of ground.
It's a startling testament to the transient nature of human existence to see how quickly Bangour has deteriorated in barely 18 months of disuse. When I saw it, I assumed it had been deserted for a decade or more. The road entrances are blocked off with numerous warnings, but there's no actual security and certainly no hordes of armed squaddies, and locals seem to walk their dogs freely throughout the vast site (appearing from time to time, all of a sudden, from behind bushes and trees, to jump-out-of-your-skin effect in the dead silence), so it doesn't seem, at least, like anyone's all that bothered about a bit of sightseeing.
It's a cold, damp morning, and without the bright sunshine that's fortuitously broken out it'd be an spooky place indeed. Like Imber there's a sense of being a long way from anywhere (although in fact here you're barely a couple of hundred yards from a busy main road), and if some long-forgotten, left-behind nutter was to unexpectedly leap out from behind a wall brandishing a cleaver, you'd have to deal with it by yourself. (It's not awfully likely, since Bangour was a non-secure institution neither meant nor used for holding the violently insane, but the overall vibe of the place is enough to put creepy thoughts in your head.)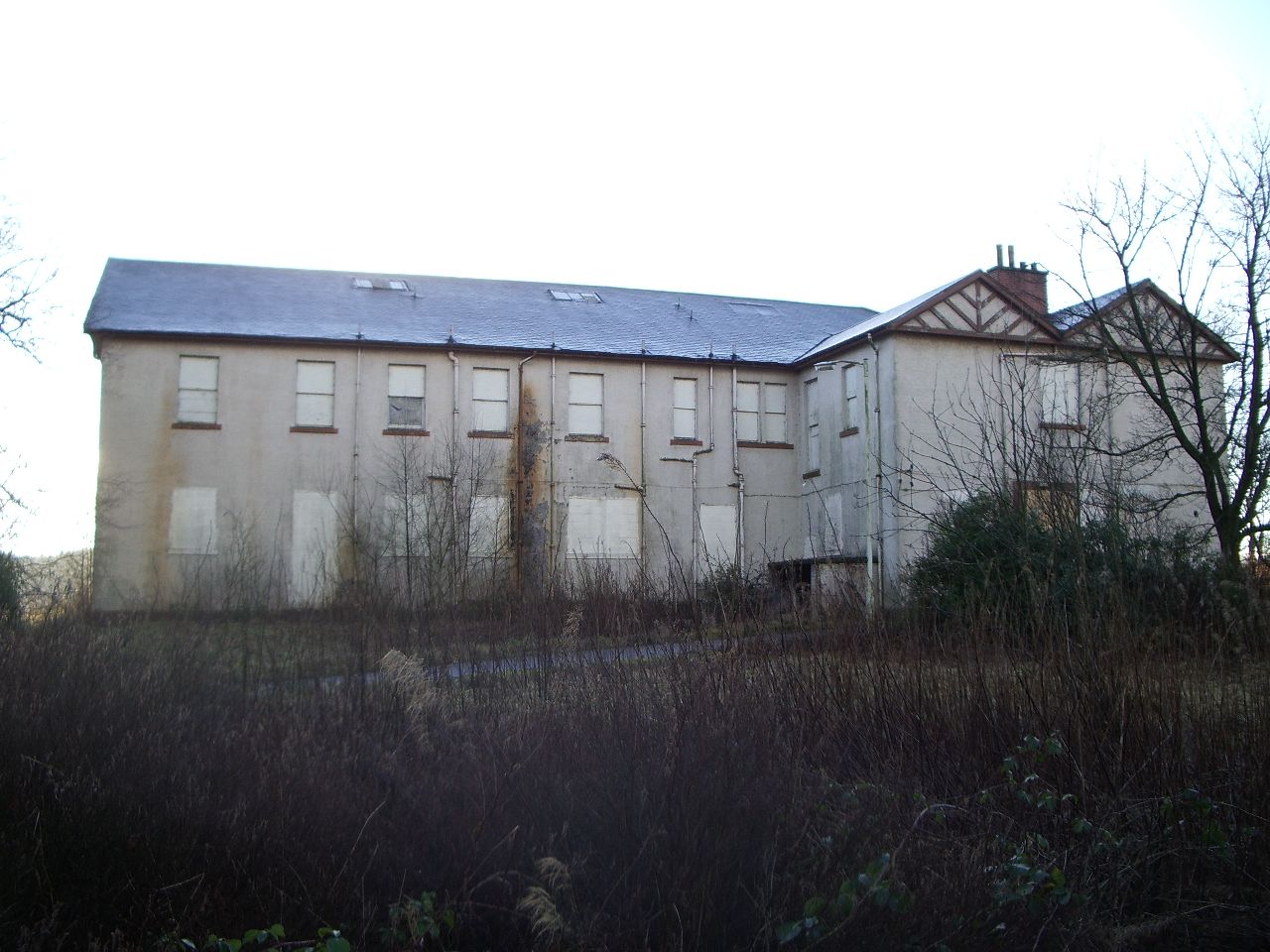 The scattershot styles of architecture are a clue to Bangour's many years of expansions.
Interestingly, the terms of the sale stipulated that the villas must not be demolished when the site is converted for residential use. They're all listed buildings, so while the insides will be ripped out, the exteriors will have to remain. It's going to be fascinating to come back to Bangour in another five years or so and see how the daunting task of preserving and restoring the neglected and tattered facades, while somehow turning these enormous institutional spaces into individual homes, has been tackled. (And you can be sure that, come 2011, WoS will be there to find out for you, skulking around looking shifty with a camera and yelping in fright every time someone comes round a corner walking their dog.)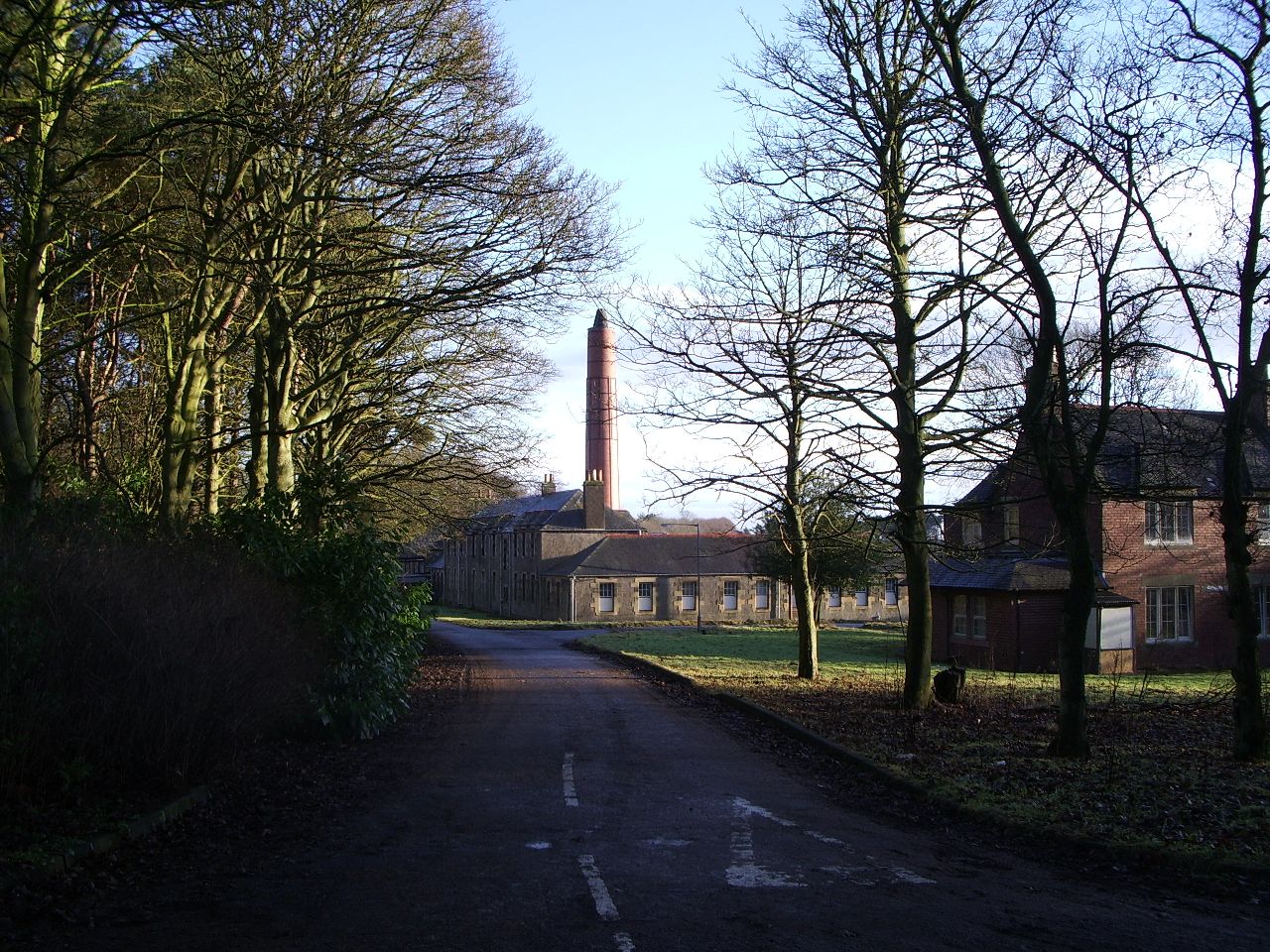 Visually, several parts of the complex are unsettlingly Auschwitz-like.
After a couple of hours I'd had enough of the unquiet spirits of the disturbed, and went back home to collect my stuff and get the train to Edinburgh. I had a seat booked on the 2.05 to Bristol Temple Meads, but something was nagging at my conscience. As an Aberdeen fan living 600 miles from Aberdeen, it was a long time since I'd seen my red-clad heroes play football in the flesh. Over a decade, in fact - just before leaving Bath I'd looked out my set of commemorative Coke glasses (from when I wangled a press-box trip to the Coca-Cola Cup final against Dundee courtesy of Total Football) and found that that day in November of 1995 was the last time I'd been within supporting distance of the boys from Pittodrie.
But as fate would have it they were playing Hibernian, right here in Edinburgh, this very afternoon. I'd be almost close enough to hear the roar of the crowd, but the last train to Bristol left Waverley at 4.05 and it was a mile and a half - uphill, at that - from the Easter Road ground to the station, with another ten minutes needed to retrieve my bags from the left-luggage lockers at the bus station. (Ten quid to store a small holdall and a carrier bag full of crisps at Waverley for two hours? Get bent, you chiselers.) It didn't look good.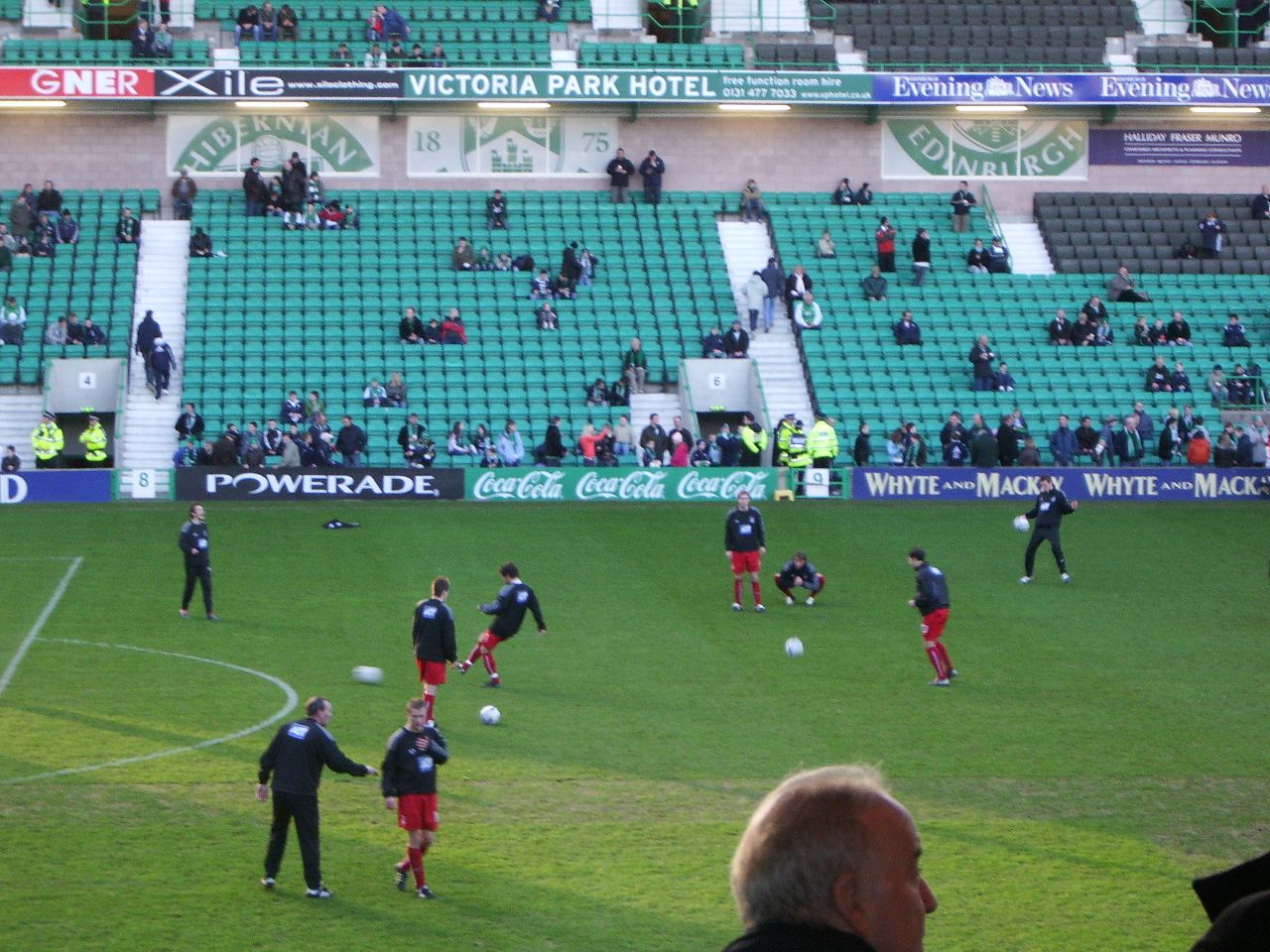 The dandy Dons warm up. Note the green Coca-Cola sign.
But I'd made myself a promise. If I won the court case, I was going to see the Dons. (Otherwise, the ridiculous £20 it costs to get into an SPL game these days wasn't going to be encouraged out of my wallet.) I had no choice. Trouble was, to be sure of getting on the train (and I had to be in Bath by Sunday morning), I was going to have to leave after about 20 minutes. (Initially the schedule had started out with me scarpering at half-time, but a bit of a test run on Friday night while the boys were late as usual - fortuitously, the Café Royal is almost directly opposite the train station - saw the estimate rapidly revised downwards.)
Strolling in leisurely style down and past the Parliament building for a last disbelieving look, I still arrived at Easter Road with 45 minutes to kick-off. Then came a potentially tricky job - finding out where the cash turnstiles were, while giving the impression of being a home fan (because away supporters aren't allowed anywhere but the away end, and there were no away-end tickets for sale), who would of course know that already. Through the journalist's skills of observation and deduction, I inveigled myself into the ground, and perched on a rudimentary plastic seat among some Hibee ruffians. Honestly, viewers, the language.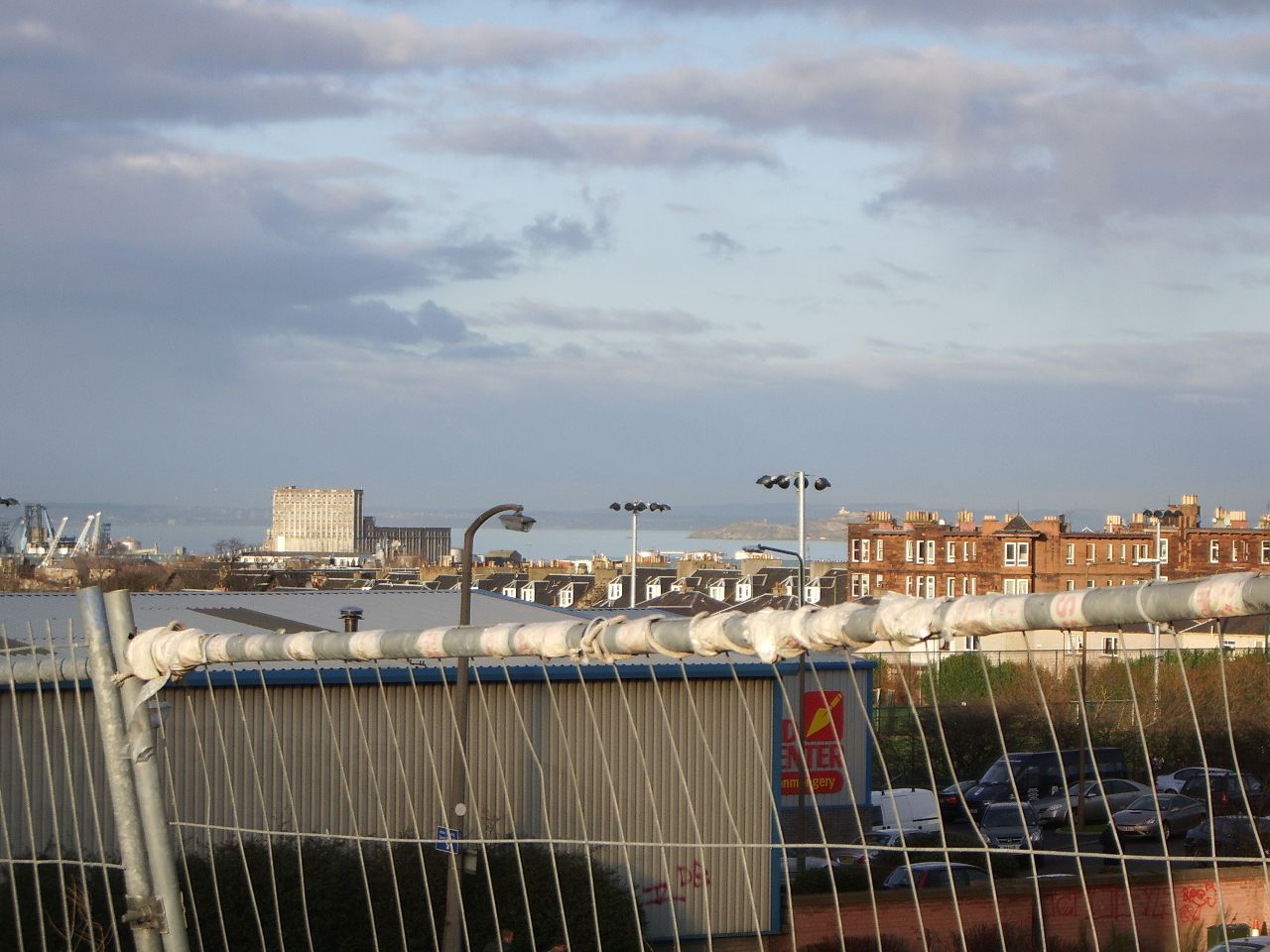 The back of the East Stand. That's the Firth Of Forth, with Inchcolm Island visible.
Half an hour passed agonisingly slowly, since amid all the observing and deducing I'd forgotten to buy a programme outside (why on Earth are they never sold inside the grounds?), and I didn't want to get my N-Gage out for a few games of Micro Pool in case the sight of the colourful flashing demons inside the tiny box got me burned as a witch.
The cash-turnstile East Stand is the only part of the Hibs ground not to have been modernised in the last few years, and it's a cowshed. A cold wind whistles in from the uniquely unshielded sides, each row of (backless) seats is only raised about three inches from the one in front (the new stands all have proper seats with decent elevation for viewing), and there are several hefty pillars in the way. Also, everyone - and I mean everyone - in the East Stand stood up as soon as the teams came onto the pitch, and stayed that way thereafter. (Which I thought was supposed to be strictly forbidden by teams of ever-alert stewards, what with making people sit down being the entire point of the Taylor Report that made all grounds have to be all-seater in the first place.)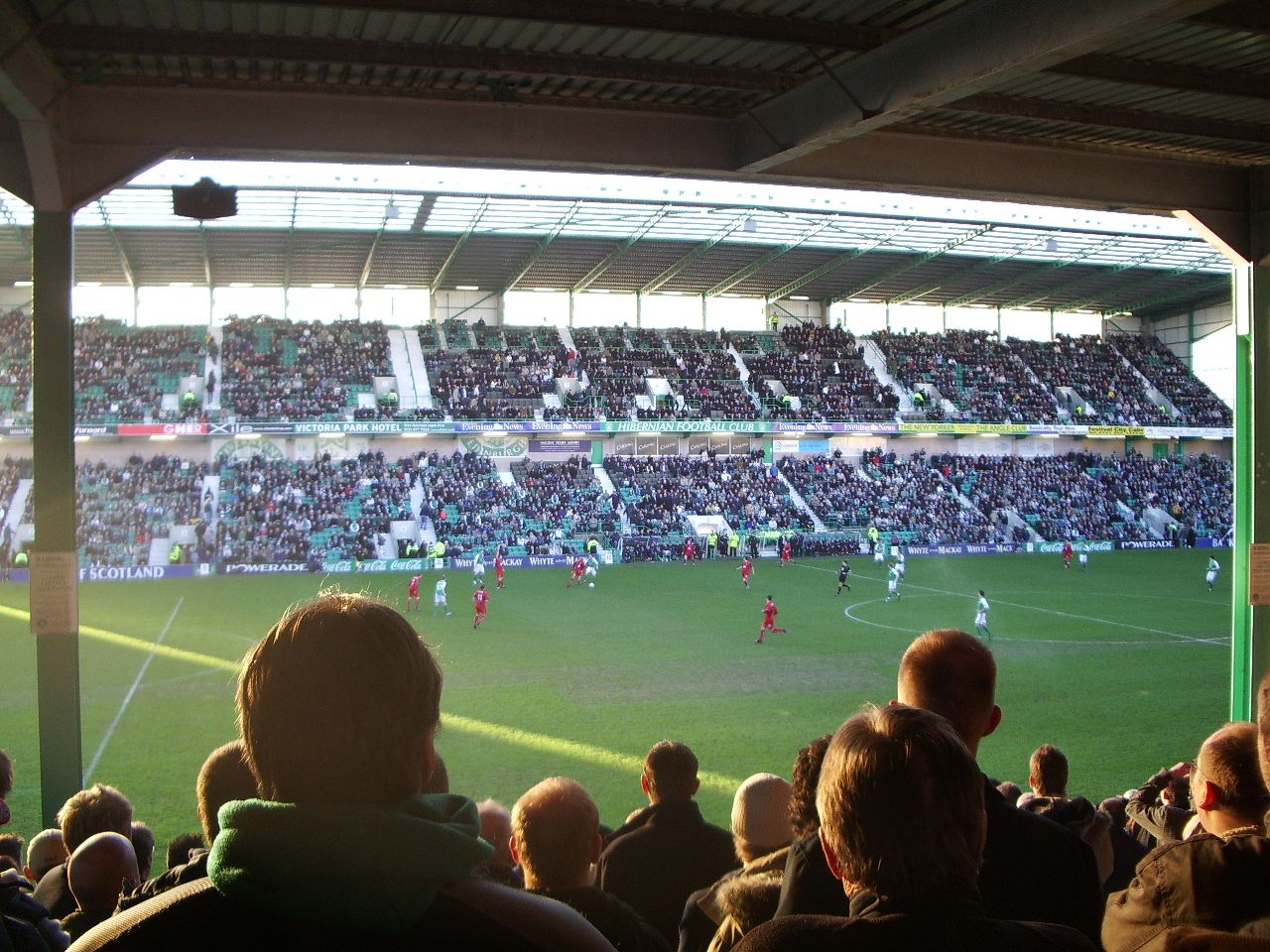 And they're off! Their seats, that is.
But eventually the interminable warm-up ended, everyone else suddenly flooded into the previously-empty ground at 2.59 exactly, and the game kicked off. I feared 20 boring minutes followed by me leaving and Hibs winning in my absence, but sometimes life is kinder than that. The Hibs fans were barracking their captain Gary Caldwell - widely believed to have agreed to sign for Celtic - from the off, and in the third minute he repaid them with a woeful passback which Dons striker Stevie Crawford gratefully intercepted, rounding the keeper and sliding the ball into the empty net. Utilising all my carefully-honed self-control skills, I grimaced with the rest of the cursing, bilious inhabitants of the stand, but inside I was dancing up and down, cheering and shouting and grinning like a big idiot.
Ten minutes later another Keystone Kops defensive howler gifted Darren Mackie a second easy goal for Aberdeen, and I decided to quit while I was well ahead, before the stifled laughter and beaming smile that were building up inside like a hydroelectric dam burst free and got my head kicked in for me. I got out and practically skipped down Albion Road, whereupon an empty taxi rounded the corner right into my path, and I was safely ensconced at Waverley in a comfy seat on the "Welsh Dragon", a table to myself in the "unreserved" carriage and all my luggage intact, fully 20 minutes before the train left the station.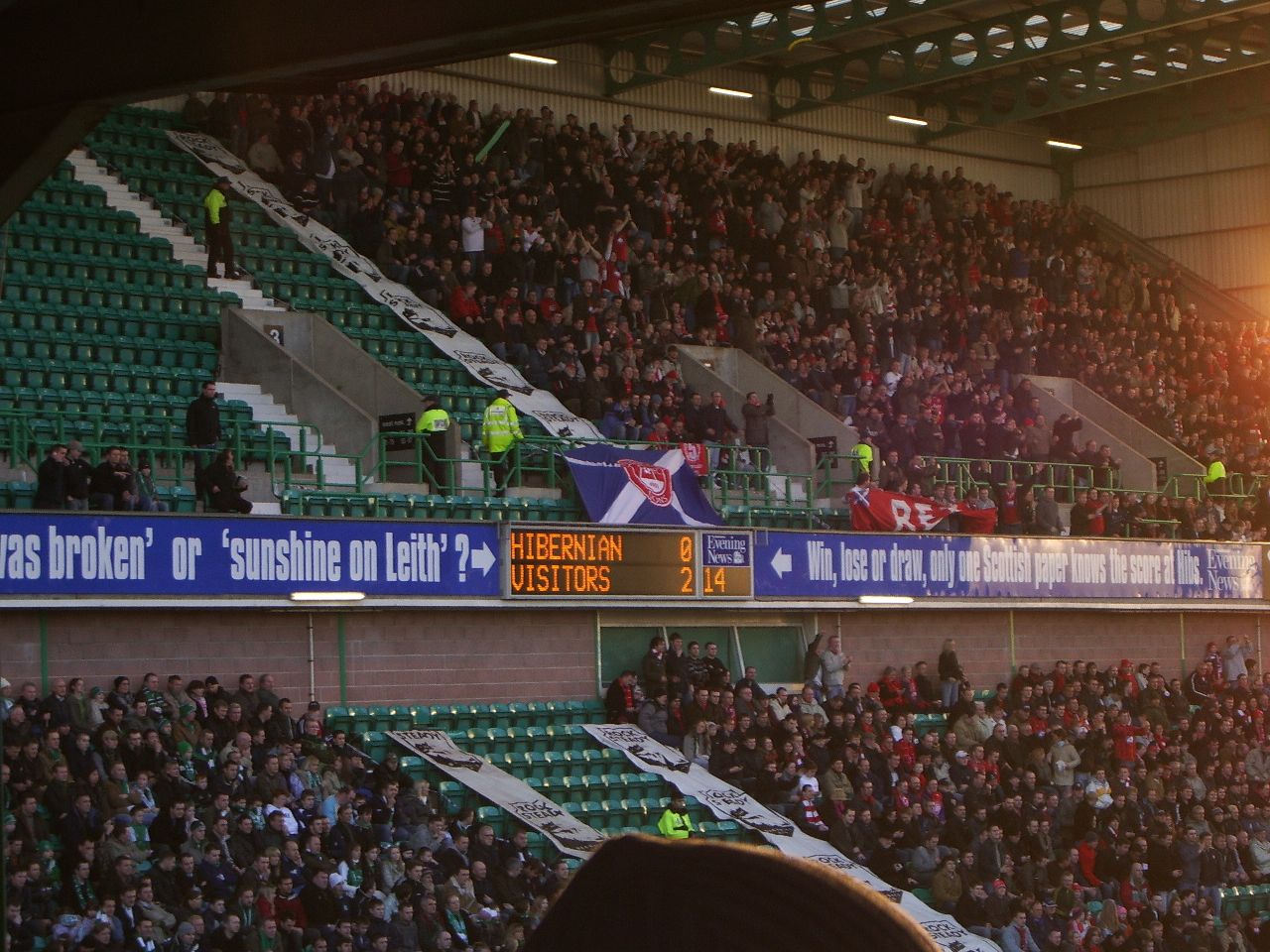 Chalk up another win for the mighty Visitors FC.
Somewhere outside Alnmouth, I texted my chum James to find out the final score. Apparently Hibs had been all over Aberdeen like a cheap suit for the whole of the second half - raining in shots, hitting the post, missing a penalty, having a goal disallowed and seeing a Dons substitute get sent off for two yellow cards inside the space of a minute. The home team had pulled back a goal in the dying seconds, but the Reds hung on for the win. In my 20 minutes I'd seen both our goals, been spared the horrible, nailbiting stress of the rest of the match, and we'd won. Sometimes, it goes your way.
With all in the world as it should be, and reflecting with grateful contentment on a packed three-and-a-half days filled with achievement and fun and culture and joy, I snuggled down into my seat, opened up my second Brookmyre of the week, blocked out the horrible English voices with the iRiver's earphones and waited, unhurriedly, for Temple Meads.