Fighting back
Pocket games started to suffer in the early 1980s from the rise of videogaming, whether in arcades or in the form of electronic handheld games. Particularly outside of the UK, Tomy made an attempt to fight back by piggybacking on some of the more successful coin-ops - sometimes with the benefit of an official licence, sometimes not.
GALAXIAN (Japan)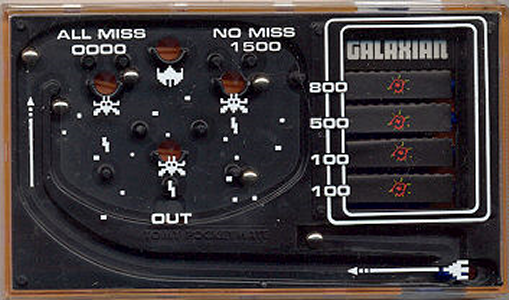 Never released in the UK in any form, this is a variant on a game called Burger Catch (and others). The graphics and name suggest an official licence, but the US version of the space-themed release was called Star Shooter.

CENTIPEDE (US)
Catch A Caterpillar, unofficial but very closely based on the graphic style of the Atari arcade game.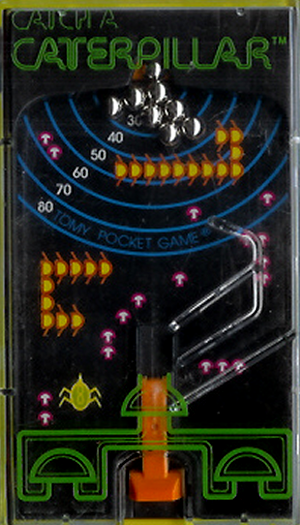 DONKEY KONG (Japan)
King Kong, unofficial release, variant on Cat'n'Mouse.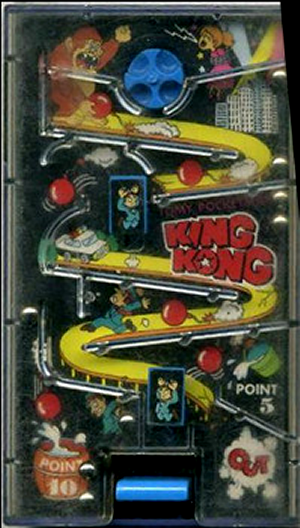 PAC-MAN (US)
Officially-licenced variant on Drop'n'Catch. Tomy have made countless other Pac-Man-themed home games.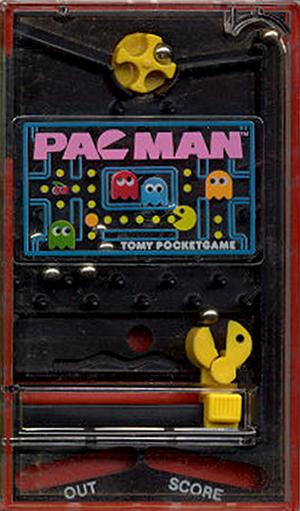 SPACE INVADERS (UK, US, Japan)
Unofficial, but the only arcade-themed title to have been created specifically as a Pocketeer/Pocket Game, rather than being a hastily-resprayed existing release.