HOUSE RULES
with The Reverend Stuart Campbell
Hello home hosts! By now, you've got a well-structured game, some nice chips and some high-quality cards. (If you haven't, either see the back issues page or bloody well pay attention.) There's only one piece of equipment left to complete the transformation of your home poker game from a half-arsed amateur shambles into a slick professional operation that'll make men envy you, women want to be with you (whichever gender you are yourself), and small children and dogs gaze up at you in awe - you need a proper playing surface.
It's all very well using your tablecloth, with its gingham pattern and gravy stains (and if you're using a bare table then go and stand in the corner with your head hanging in shame, you heathen), but if you want to feel like proper poker players you can't do without some classic baize to swoosh your cards across.
The cheapest option is to drape a piece of cloth over your existing table - you can either buy it off the roll (from around £10 a metre upwards depending whether you want plain baize or fancy patterned and specialised stuff), or you can pick up a 6-foot-by-3-foot poker cloth with a marked betting line for about £15 on the internet. But neither is ideal unless you're prepared to go to a lot of faffing to stop it sliding around, and to store it carefully rolled-up so that you don't have to spend half an hour ironing creases and wrinkles out of it before your game.
For the extra few quid it'll cost, you're much better off getting a dedicated tabletop. These come in hundreds of different varieties of shape, style and colour, but there are a few basic categories to make choices in.

ROUND / OVAL
"Round" in this context doesn't necessarily mean circular, just rotationally symmetrical. The large majority of poker tabletops on sale today are octagonal and seat eight, but watch out for cheaper ones with eight sides but only six player positions. Oval tabletops usually seat either eight or ten, and are much more expensive for some reason (usually more than twice the price of the more common octagonal or circular tables).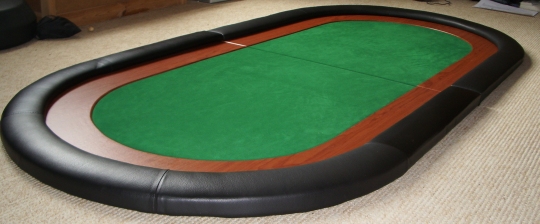 Weber tabletops like this one are the nicest oval ones around, with lovely "racetrack"
surrounds and plenty of room for 10 players, but expect to pay upwards of £65 for one.
Obviously your choice will depend on the shape of the table you're going to be using it on and how many players you plan to have, but if you have a symmetrical table be aware that the octagonal tops will usually give you more playing space than circular ones.

ONE-SIDED / REVERSIBLE
In the case of round/octagonal tables, you can have a single-sided version which will either have plain felt or painted markings, or a reversible one with both. Surprisingly the single-sided ones don't tend to be any cheaper - the only advantages are that they're usually lighter, and the chip trays will be glued in rather than pop-out, and therefore much less likely to fall out or break. (On the other hand, with a double-sided tabletop it's not a disaster when some klutz spills his beer all over it – you can just wipe it down, flip it over and carry on with the game while the other side dries off.)
As a general rule you should try to avoid the tables with markings – for a start they'll usually be marked for blackjack rather than poker, which is a bit tacky, and the paint tends to be quite thick and inclined to catch the cards on its raised edges as they slide across. Plain felt, or nothing but a simple betting line, is best.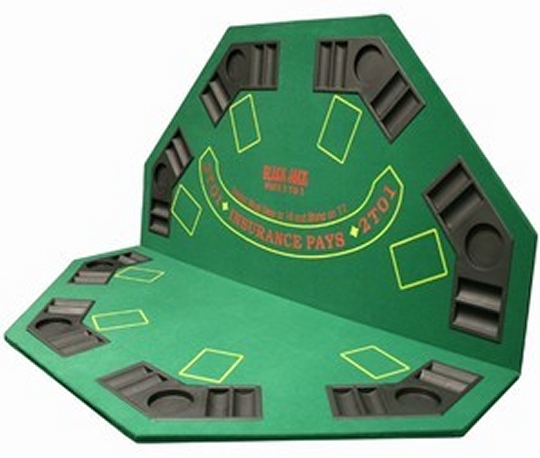 Here we see a single-fold table (good) with blackjack markings (bad). Reversible
tables always seem to open out the awkward way for using the plain side, too.
ONE-FOLD / MULTI-FOLD
Be careful here. For some incredibly stupid reason, people often refer to tables that fold in half (ie they have a single fold) as "two-fold", and ones that fold into quarters (ie they have three actual folds) as "four-fold", so look closely and see what you're actually buying. The multi-fold type obviously have twice as many seams for the cards to catch on, which is bad, so avoid them unless storage space is an issue. (A single-fold tabletop will be four feet wide and two feet high, and that can be a problem if you don't have a lot of room. It's also a right pain in the arse to negotiate narrow corridors and stairways with compared to a quartered one.)
So that's it. With chips, cards and a good playing surface, that's totally, definitely all the equipment you'll need to run a good home poker game. OR IS IT?
Tune in next month for the surprising answer!

TABLE MANNERS


BAG IT UP
The internet is full of chancers and outright thieves, and you need to be careful to check the small print when buying a poker tabletop. Quite a few places will try to flog you a four-foot-by-two-foot slab of heavy wood and delicate felt without a carrying case to transport/protect it in, cheekily charging up to an extra tenner for this essential piece of equipment.
Without a case your precious tabletop will last about five minutes before the cloth gets torn, stained or eaten by moths, so don't get mugged by ripoff merchants. Prices for identical octagonal tabletops online vary from £20 (including case) to £50 (without one), so make sure you double-check exactly what you're getting for your money.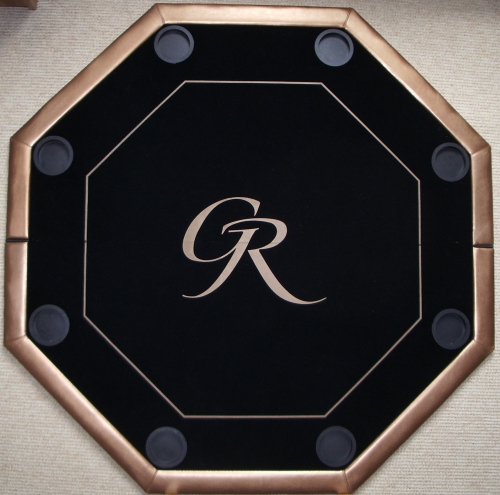 These good-looking and relatively lightweight Grand Royale tabletops (once sold in Burtons menswear shops, but now hard to find) are my own favourites, but come in a cardboard box without a carrying case, so you'll have to buy one separately.


I GET SO WILD ON MY MOTORBIKE
If space and money are no object (or if you don't own a table and still eat your dinner out of the pot), you can go the whole hog and buy a full-blown free-standing poker platform, rather than one that's effectively just a lid. At this point, the sky's the limit. Dedicated tables start at around £110 (for an eight-player "Nuts" table with folding legs, or a cheapo circular one), zoom past £250 (for a very lovely 10-seater Weber oval with black cloth, racetrack and deep stainless-steel drink holders), and then speed off into crazy territory.
The pinnacle of poker-table madness is the Harley-Davidson, an officially-branded maple-and-mahogany monster with "chain nail accents" and a leather-type surface embossed with a huge Harley logo that's just asking to have card edges catch in it and flip over as you try to slide them across. (Indeed, barely a surface is left un-embossed or not stamped with little metal H-D shields.)
Though it seats eight you only get four chairs with it, and you have to assemble it yourself like an IKEA flat-pack wardrobe when it finally arrives after the "two to three months" delivery period. The price for such ultimate poker luxury? A mere £4,800. Postage is free!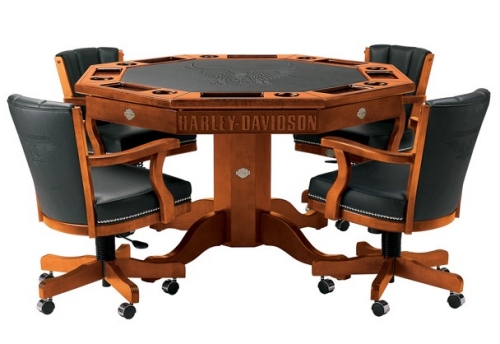 If you think the presence of a reversible surface that can also serve as a normal dining table will save you from evisceration by your other half, you're only fooling yourself.


BARGAIN BAY
Something worth noting is that most of the prices quoted here (and for that matter in previous columns) are over-the-counter fixed ones. However, you can often find bargains for brand-new gear on eBay if you're prepared to fight with other bidders rather than coughing up the "Buy It Now" price. At the time of writing, pretty decent "Johnny Texas" oval tables crop up fairly regularly in batches and tend to go for around £35-45 including a cased set of 500 chips, which is a very worthwhile one-stop bargain if you're just starting out.
Weber tables can also frequently be found in "Best Offer" auctions, where the seller will quite likely knock a fair chunk (20-25%) off the "Buy It Now" price for an instant sale. Sadly, the Harley-Davidson table doesn't seem to crop up very often.


The Reverend is Assistant Organiser of the Bristol & South West Poker Meetup Group, which runs scheduled single- and multi-table tournaments and cash games at numerous venues across the region and is sponsored by Poker.co.uk.



(Click the banner to play with other RSWoP viewers, and earn RSWoP referral bonuses.)