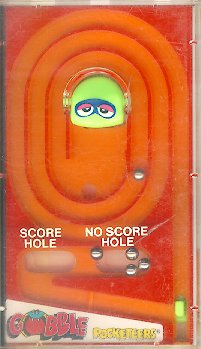 ORIGIN: UK Pocketeer, no.31373
VARIANTS: Clam's Casino.
GAMEPLAY: One of the simplest of all the Pocketeers. You pull the lever to fire the ball round the spiral, then a button on the left-hand side causes the monster's mouth to flip open for a split-second, just wide enough to swallow the ball. It's actually very difficult to pull off, unless you cheat by holding the button about three-quarters of the way in, in which case the mouth stays open. If you can resist that temptation, it's one of the most challenging and addictive games in the series.