SHALL WE PLAY A GAME?
Take the WoS GBA Lode Runner Challenge!
Your intrepid correspondent's been on a major Gameboy Advance kick for the last couple of weeks, viewers. Whether it's displaced excitement over the forthcoming Nintendo DS, which has re-fired the enthusiasm for gaming of almost everyone your reporter knows, no matter how jaded; or the sheer joy of your correspondent's new Flash linker, enabling the carrying around of four generations of gaming history (Spectrum, NES, GB, and GBA) in one tiny cartridge; or the simple appreciation of fantastic, portability-designed games like Mr. Driller 2 and Metal Slug Advance, this reporter's had no time for the so-called state of the art, with the likes of Halo 2 and GTA San Andreas sitting around ignored, except in the brief hours while the SP's battery recharges.
The GBA is, of course, especially suited to puzzle-type games. The boredom of hanging around for a bus, or at the dentist's, or waiting for your chums to arrive in the pub, is dispelled instantly by tackling just one more of Chu Chu Rocket's 2,500 puzzle stages, or trying to unlock one more bonus route in Kururin Paradise. But today, World Of Stuart wants to - iNTeRacTiVely! - share with its beloved viewers a taste of some of the SP's very finest puzzling action, in the shape of one of the oldest videogaming lines in history.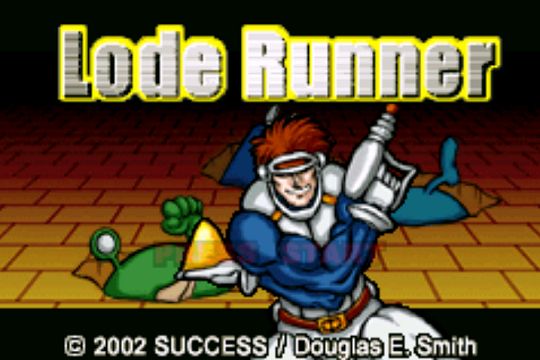 Green monster: "Why I oughta...!"
Since its debut on (WoS thinks) the Apple II, Lode Runner has colonised pretty much every gaming platform ever created. There have been literally dozens of different Lode Runner games, spanning obscure Japanese home computers of the 1980s, tiny little keyring games (if you know where to lay your hands on one of these, please contact WoS immediately for CASH REWARDS), arcade machines, and everything in between. The Game Boy incarnation, Hyper Lode Runner, remains one of the most startlingly brutal games ever released to a quaking public, and WoS readers should look out for something special related to it quite soon, but that's another story.
Right now, though, we're concerned with the latest title in the long-running series, a splendid Japan-only Gameboy Advance release unhelpfully simply entitled "Lode Runner".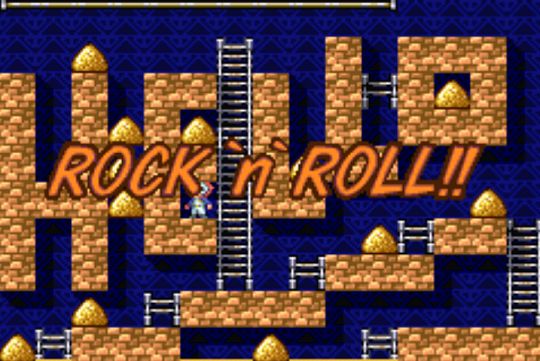 Hello rock'n'roll!
In particular, pals, your puzzle-loving WoS wants to share with you the joys of a single level of GBA Lode Runner, one which kept your correspondent glued to the screen and tearing his hair out over three days. (Though of course, the solution turned out to be rather simpler than the unnecessarily-taxing one your reporter ended up using. So let's see if you, the intelligent and resourceful viewers of WoS, can do any better.)
There's no cheating, there are no enemies (well, we'll get to that later), no time limit, nothing but you and a single screen of platforms and ladders and gold nuggets to collect. It's only the seventh level of the easier of the game's two sets of stages ("Small World" offers levels occupying only a single screen, while "Middle World" features larger, scrolling levels. It doesn't seem beyond imagination that there might be a "Big World" awaiting anyone who finishes both sets of levels, but the chances of even your intrepid reporter being able to establish that for certain any time soon are distant at best), but is so uncompromisingly evil that it may well make you cry.
Anyway, you'll find the stage in question pictured below. And don't panic - to make our game more fun, WoS is going to offer you some help. Firstly, of course, you can't be expected to solve the puzzle from a web page. So here's a copy of the game. (NOTE: Clearly, the distribution of this game by WoS is technically illegal. However, Lode Runner is not available for legitimate purchase outside of Japan, so we don't see the harm. Obviously, should the legal owners of GBA Lode Runner object to this distribution, WoS will comply with their wishes.)
Secondly, there's a save file which will enable you to go straight to Level 7 without having to beat the preceding levels first. (Start a game then press Select. Choose the leftmost box and press fire, then use the pad to select the stage you want to go to.) Thirdly, if you don't have a Flash linker (or, indeed, a GBA), you'll need a splendid emulator. (For PC. Mac users can go here, though WoS is unable to vouch personally for the quality of the Mac emulator. It seems to be well spoken-of, however.)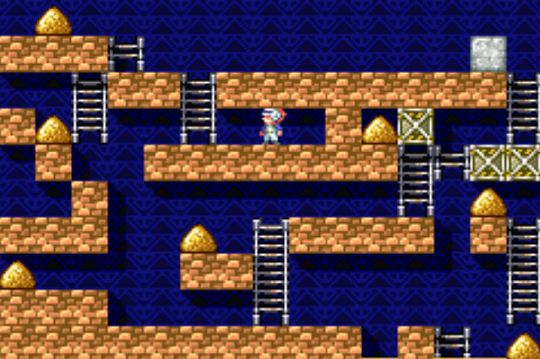 This is your quest - just collect all the gold and leave. Simple.
And finally, if you're pathologically impatient, hopelessly bad or just a wimp, we're even going to offer you some hints. If you click on the links below, you'll find a progressive series of tips which will help you get closer to success. Of course, using the hints will reduce your score in the WoS GBA Lode Runner Challenge, and true gentlemen of gaming will stick to their task until victory without resorting to such base chicanery. (NB If you use the fourth hint down, for example, you only get seven points regardless of whether you used the hints above or not.) So without further ado, let's go.
FOR 10 WoS GBA LODE RUNNER CHALLENGE POINTS:
Complete the stage without hints, and collecting the bonus teddy bear.
FOR 9 WoS GBA LODE RUNNER CHALLENGE POINTS:
Complete the stage without hints, but also without the bonus teddy bear.
FOR 8 WoS GBA LODE RUNNER CHALLENGE POINTS:
Who is this?
FOR 7 WoS GBA LODE RUNNER CHALLENGE POINTS:
And what's that he's carrying?
FOR 6 WoS GBA LODE RUNNER CHALLENGE POINTS:
Grab that tricky nugget at top right.
FOR 5 WoS GBA LODE RUNNER CHALLENGE POINTS:
This is NOT how to get the bottom-right nugget.
FOR 4 WoS GBA LODE RUNNER CHALLENGE POINTS:
The correct way.
FOR 3 WoS GBA LODE RUNNER CHALLENGE POINTS:
Free the bear (and his owner).
FOR 2 WoS GBA LODE RUNNER CHALLENGE POINTS:
Oh come on, this was the easy bit.
FOR 1 WoS GBA LODE RUNNER CHALLENGE POINT:
Well, at least you tried.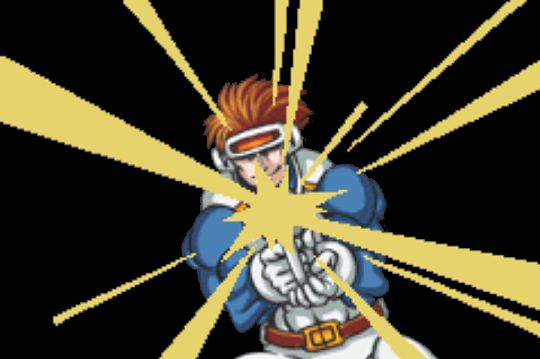 Good luck, viewers!