CASE 5: CLUB TROPICANA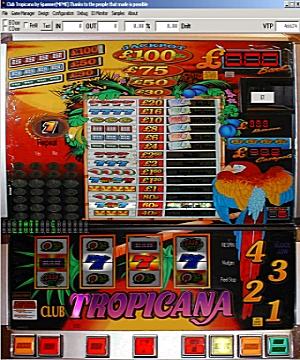 This £100-jackpot club machine is quite old, but it has the most spectacularly blatant proof of the cheating nature of fruit machines that we've encountered so far.
TO RECREATE THE EXPERIMENT, DOWNLOAD THESE FILES
Emulator - Download
Club Tropicana files - Download
Unzip all files to the same folder.
As a relatively simple machine, Club Tropicana had no need for an LED display line giving the player instructions. Nevertheless, the emulator reveals that there is in fact a display concealed within the machine, which would not be visible to the player but which would be visible to the machine engineer. We've made the emulator display it, and it can be seen in the picture above, on the left-hand side just above the reels.
When you get a win in Club Tropicana, the display will change to show the word "LIMIT" followed by a number. This number refers to the win ladder in the top half of the machine. "LIMIT" refers to the position on that ladder that the player will be stopped at on the Hi-Lo gamble. So for example, if the display reads "LIMIT 6" then the player will be stopped at the sixth position on the ladder. The sixth position is £1.60, so we now know in advance that we will lose the gamble from £1.20 no matter what we do. Remember, though, that this information is NOT available to the real player in the club.
What this does is finally prove 100% that the machine is determining in advance that the player will be cheated at a preset point. This is an absolutely clear contravention of Section 30, Paragraph 7(b) of the 1968 Gaming Act, as well as a breach of the law on fraud.