THE COMPLETE


Indie Zone started life as a very small column called Free Play in the news section of PC Zone, covering freeware releases. After just two issues, it was incorporated into a proper regular section featuring commercial independent games as well as freeware, and ran for just under a year, until the magazine was bought by Future Publishing and your correspondent was summarily fired. Since it's basically just a bunch of small game reviews, the whole thing has been collected here onto a single page, with obsolete original links updated to the best available live ones at the time of writing.


FREE PLAY - ISSUE 138 (Feb 2004)
Achtung viewers! Welcome to Free Play, an excellent new regular section of PC Zone in which we bring you the very best in free PC gaming. It's probably worth taking a minute to define our terms – for the purposes of this column, "free" is defined as a game you can obtain in its entirety without paying for in advance. Therefore, shareware games which come as a few levels, with the whole game available only when you pay for it, are NOT eligible for inclusion here. On the other hand, games which you can download/play in their entirety, but are invited to subsequently pay for if you enjoyed them, ARE allowed - naturally, we strongly encourage you to play fair with such games and make the requested donation if you feel the game is worth it. But what we're mostly going to be focussing on here are games which are completely and permanently free, which some enormously generous soul has created and distributed for nothing other than the sheer philanthropic joy of sharing them with fellow gamers, and which fill Free Play's heart with a warm and glowing love for humanity.
Such a game is our first offering, the glorious Warning Forever. An all-boss freeware shoot-'em-up from Japan, Warning Forever does something that's been sadly missing from shooting games ever since R-Type – giant enemy ships you can blow up piece by piece, rather than just having to pour fire into one weak spot for hours until the whole thing illogically explodes. There's far more gameplay cleverness to discover in Warning Forever than we have space to tell you about here, so just dive right in, admire the aesthetic and design elegance, and then destroy it. With bullets.
http://www18.big.or.jp/~hikoza/Prod/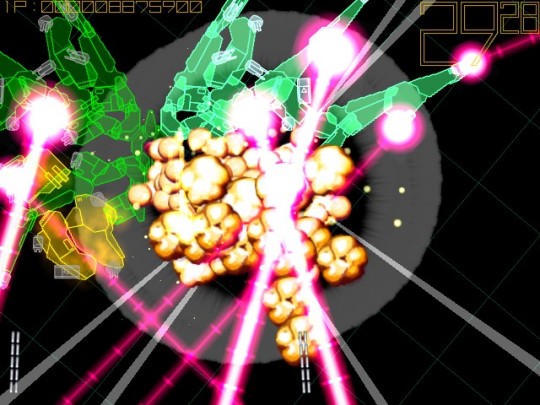 INDIE ZONE - ISSUE 140 (Apr 2004)
As alert readers will have noticed, here at PC Zone we've been devoting quite a bit of attention recently to independent developers, that endangered species representing the last link to the legendary days of the "bedroom coder". But after the big feature in PCZ137, we got to thinking "But what's the use of us bigging-up indies if we never look at the scene the other 12 months of the year?" (Because as you'll know as an alert reader, for magazine writers there are 13 months in a year.) And therefore – welcome to Indie Zone.
Here every month we'll be reviewing games from indie developers/publishers which, in most cases, you won't be able to buy in shops, only direct from the authors. They'll be judged by the same standards as any other game – no "special treatment" for being independent – and hopefully we'll find you a few gems hidden away down a different road from the somewhat generic "FPS, RTS, RPG, football" release schedules of the majors. If you've got any comments on Indie Zone (such as, purely for example, "Make Indie Zone bigger!"), feel free to forward them to the editor. So on with the show.
KAYAK EXTREME
Small Rockets $14.99 (about £8.50 at time of writing)
In several ways, Kayak Extreme typifies what independent development is all about. A fairly sedate and technical game about downhill canoeing, it's hard to imagine any major publisher ever greenlighting it. But that doesn't mean it's been produced to lesser standards than the average High Street PC game – the graphics, as you can see, are beautiful, and the turbulent streams you paddle down highly convincing. Where the game does let itself down, though, is in a needlessly complex control system, with a messy, unintuitive and non-reconfigurable keyset, and a pace that may be realistic, but seems a little ponderous when you don't have the excitement of real showers of icy spray crashing into your face and the constant threat of drowning after having your head caved in by rocks. Still, the PC gaming market is one where people tend to lap up relatively dull and "accurate" simulations in preference to exaggerated arcade thrills, so if the idea of Kayak Extreme appeals to you the execution may well also. To Indie Zone, however, it seems like something of a missed opportunity.
PC ZONE VERDICT: Not nearly "Extreme" enough. 55%
http://www.smallrockets.com/pc/kayak/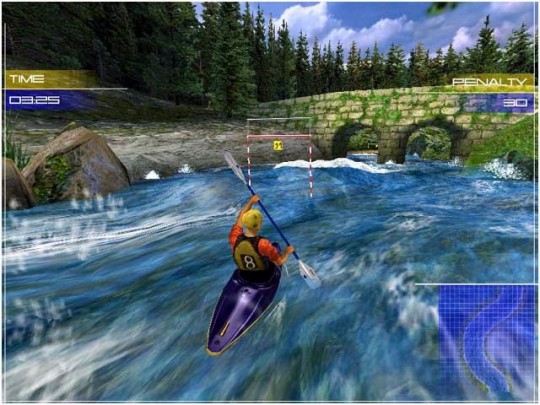 You'll come to loathe red "reverse" gates.
FREE PLAY - Super Mario Pac (Hermit Games)
WARNING: The following paragraph contains the phrase "self-referential cross-pollination". Please note – this is not dirty. Don't write us angry letters about it. Thank you. You may now return to your column. (Fnar!)
One of the reasons videogaming culture gets so little respect in the real world is that it has so few examples of self-referential cross-pollination like this. Super Mario Pac spans three entire generations of gaming – it takes the basic game design of classic Spectrum title Jet-Pac, the setting and aesthetics of seminal SNES platformer Super Mario World (by Nintendo, who would later go on to buy part of Rare, the company who made Jet-Pac), and the core gameplay mechanic of the Gamecube's Mario Sunshine, and melds them together into a slick and professional piece of PC freeware. It's practically a historical document. It's also, however and more importantly, a fab little game. Adding a few simple tweaks to the Jet-Pac gameplay brings Super Mario Pac right into the world of the Mushroom Kingdom, to the extent that you could easily picture this game being given away with future Mario titles on the Game Boy Advance, like the original Mario Bros is nowadays. There's no room to tell you more, so fire up your coverdisc and see for yourself.
http://www.hermitgames.com/mariopac.html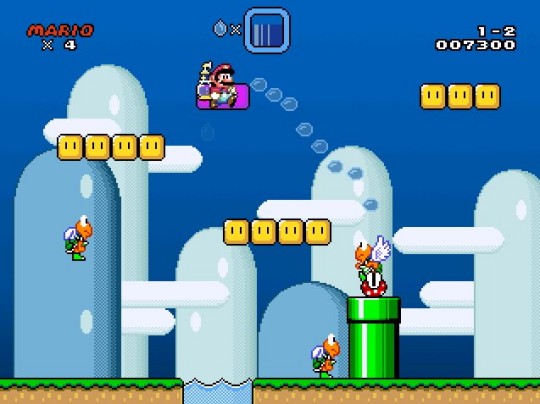 A world where water kills turtles.


INDIE ZONE - ISSUE 142 (Jun 2004)
As mentioned in Free Play a couple of issues back, one of the odd things about "progress" in gaming – and more specifically, gaming technology – is how certain things get completely left behind. It's like never having another cup of tea in your life, just because you've discovered beer. Today's modern graphics cards can display incredible textures and lighting and detail and all the rest of it, but the advent of CGI in movies didn't stop people making cartoons, did it? The fact that odd French feelgood movies (say, Amelie) can be made in glorious real-life Technicolour doesn't mean that muted-tones animation isn't still a valid alternative way to express similar sentiments (as in, say, Belleville Rendezvous).
Major publishers generally lack the vision to create games showcasing anything but the latest technical state of the art, but indies are free to try more eclectic or abstract styles, ironically displaying a considerably greater level of artistic maturity by doing so. This month, Indie Zone looks at a couple of examples.
PLATYPUS
(Retro64, $19.99 – about £12 at time of writing)
Min spec: 300MHz CPU, Direct X 7.0, Direct 3D. Rec spec: none stipulated
The author of Platypus apparently modelled every single object in the game in real-life Plasticene before photographing them and turning the pics into sprites, and the attention to detail has really paid off in this uniquely good-looking shooter. Indie Zone isn't really sure why more games haven't used this distinctive and time-honoured technique (hey, if it's good enough for Wallace And Gromit it should be good enough for PC games), but it's good news for Platypus, as it means it gets to stand out from the crowd in a way that it perhaps wouldn't if it relied on "standard"-type graphics to depict its straightforward shooting action. This is real old-fashioned stuff, with none of the fancy gameplay fripperies of rRootage (see Free Play) - you get a few basic time-limited powerups, a raft of baddies and some massive boss enemies at the end of each stage, and that's about it.
But it's beautifully executed and with an admirably challenging difficulty setting, both in terms of the resistance put up by the little Claymation bad guys themselves and in the fact that you only get a couple of credits with which to play through each of the five long stages (each with several sub-levels). In truth, the stages are slightly too long and a bit repetitive until you reach the splendid bosses, but marvelling at the graphics (even the explosions are rendered in Plasticene) will keep you distracted from that fact well into the proceedings. As a bog-standard space shooter you probably wouldn't give Platypus a second glance, but its Play-School stylings are so loveable it's a bargain at the price.
PC ZONE VERDICT Just £12? Put it on your bill. A-ha ha. Ha. 74%
http://www.retro64.com/platypus_game.asp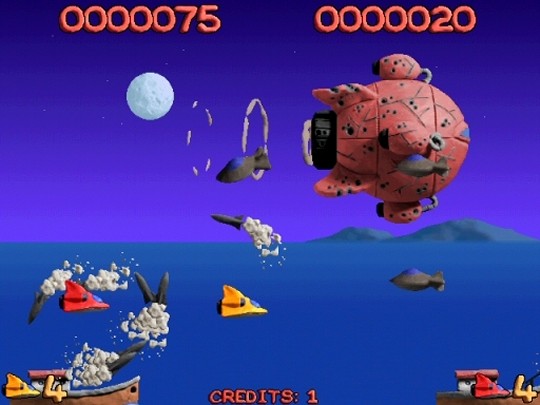 A trouble shared is a trouble halved.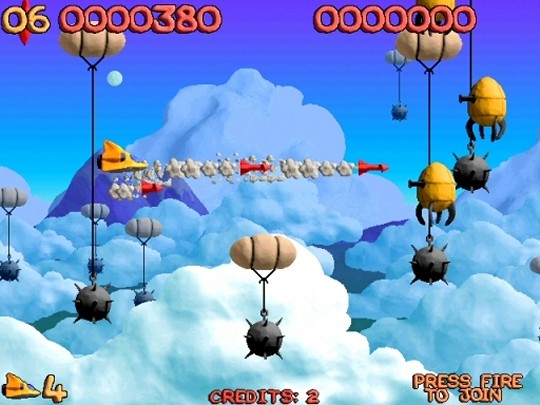 Not the safest way to transport mines.
FREE PLAY - rRootage (ABA Games)
Superficially reminiscent of the mighty Warning Forever (from the first ever Free Play column), this abstract shoot-'em-up is in fact a very different game in play, and marks the pinnacle of a series of games in a similar vein from Japanese shmup-coder "Saba". As you can see, the graphics are extremely minimalist, but they conceal a highly-sophisticated shooter which actually includes stripped-down versions of three of the most popular arcade/console shooters of recent years: Giga Wing, Psyvariar and Ikaruga.
rRootage takes the weaponry, enemies and fire patterns of those three games and transposes them into its own wire-frame world, in the form of 10 individual levels for each mode, played as score attacks. (There's also a 10-level Original Mode.) It's shooting in the purest form imaginable, and in the four game modes there's a surprisingly wide variety of playing styles, from the reflect-shield-based Giga Wing levels to the Psyvariar ones, where you get more bonuses and firepower the closer you scrape against the enemy bullets. While the graphics couldn't be any simpler, they have a real beauty of their own, and while it only partially comes across in screenshots, you now have no excuse for not admiring it in action.
http://www.asahi-net.or.jp/~cs8k-cyu/windows/rr_e.html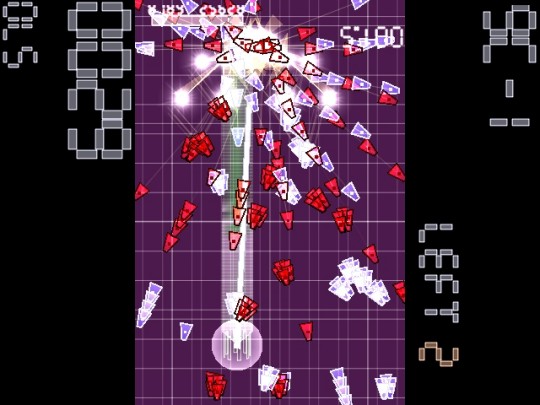 I think you've got him worried.

INDIE ZONE - ISSUE 144 (Aug2004)

One of the more disappointing things about the world of games is its lack of crossover with other forms of culture. Bar licenced games of big-budget movies, games exist mostly in a cultural vacuum, never referencing the worlds of music or art or literature or even the media. If games make a point, or a joke, it's usually a point or a joke about other games, not about anything in the wider world. It's odd when you think about it, because games are at least as of-their-time as other cultural forms, if not more so – good luck running the average four-year-old videogame on the hardware platform of the moment – so you'd expect them to be even more contemporary in their references. This month's featured game doesn't exactly come under that category, but it's a start.
ART IS DEAD
(Small Rockets, $14.99 – about £8)
REQ: P2-233, 32MB RAM, 4MB gfx)
Lightgun games don't tend to crop up on the PC very often, and for good reason – you'd have to be pretty sad to sit pointing a plastic gun at your PC's monitor from two inches away and pretend you were being presented with some sort of a challenge. (Except, perhaps, the one resulting from the gun obscuring your view of the screen.) Sadly, this fact has robbed the PC of some of the finest arcade games to come to home gaming platforms, such as Namco's fantastic Time Crisis and Point Blank series. The latter – a bright, fast-paced cartoon shooter stuffed with blink-and-you'll-miss-'em mini-challenges – is the inspiration for Art Is Dead, a lightgun-style blaster (except using the mouse) in which you participate in a wide range of minigames set against the backdrop of classic works of art.
While the mini-challenges of Art Is Dead are neither as inventive nor as snappy as those in the Point Blank games, this is still a quick and entertaining shooting-gallery game, with "gallery" being used in a more literal sense than usual. It's arguable whether a mouse and crosshair negates the entire point of this sort of game, but it's certainly sent your Philistine reporter off to find out what some of the priceless works he's been blowing holes in actually are, which automatically makes this the most edutainment-tastic thing since The Typing Of The Dead, and as ever the joy of indie games is that at the likes of eight quid, they don't have to be mega-epics to justify their price. Indie Zone may not know much about art, but it knows what it likes.
PC ZONE VERDICT: Indie Zone likes this. 79%
http://www.smallrockets.com/pc/artisdead/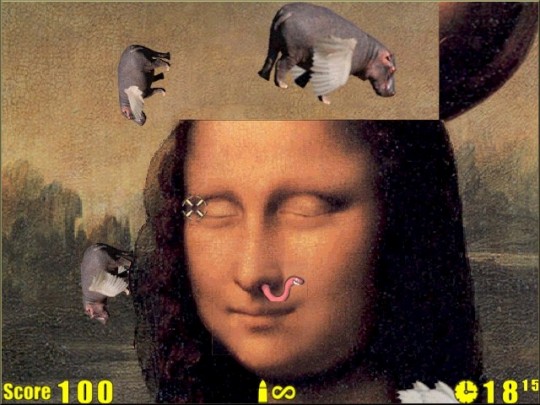 Well, you'd shut your eyes too.
FREE PLAY: STAR WARS – THE BATTLE OF YAVIN (Bruno R. Marcus)
The Star Wars videogaming franchise is one that's been increasingly devalued over the last few years by an avalanche of highly-mediocre titles, steadily pissing all over the legacy of much-loved games like X-Wing vs TIE Fighter and the original Atari vector-graphics coin-op (which is still Indie Zone's favourite SW game by a mile). However, a freeware coder is attempting to fight back against the Dark Side of LucasArts' licencing department, with a whole series of games taking Star Wars back to its roots.
The latest is The Battle Of Yavin, a highly-impressive 3D outing written with TrueVision3D, and styled very much in the footsteps of the original arcade game - there's a space-battle section with massed ranks of X-Wings, B-Wings and TIE fighters, attacks on the Death Star surface, and then a climactic run through the famous trench. It's a very simple game, with no fancy controls or weapons to get to grips with – you just fly around and shoot stuff – but with scores of fighters all pursuing their own private battles, and all sorts of attention to detail, it creates a more convincing sense of a real space dogfight than any of the official SW releases on the PC. It's tough too, but you'll keep coming back for another kicking, because this is purest essence of Star Wars. And it's free.
http://www.bruneras.com/ - more info and more Star Wars games by the same author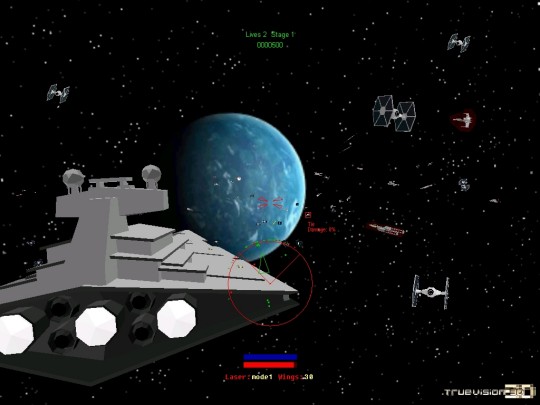 Ooh, it's like Piccadilly Circus up there.

FREE PLAY - ISSUE 146 (Oct 2004)

Indie Zone may have mentioned this before, but one of the joys of the indie scene is the keeping alive of game genres which the mainstream has long since abandoned. During the war, when Indie Zone were a lad, it was all cute platform games around here, but when did you last see one on the PC? And yet, the form didn't suddenly stop being entertaining, did it? Of course, sometimes revival can go too far. Ask Dr Frankenstein.
SUPERSTAR CHEFS
Arcade Labs, $19.99 (about £12)
Min spec: Direct X
A few months ago, Indie Zone expounded at some length on the issue of plagiarism in independent games, and specifically the blatant remaking for profit of old games with no acknowledgement to the original creators. Which puts your reviewer in a bit of a spot when someone remakes one of his all-time favourite games of the 90s, does a lovely job of it, but shamefully fails to admit that that's what it's actually done. The game in question here is Team 17's budget-price 1993 Amiga platformer Qwak, and Superstar Chefs is an absolutely unabashed clone of it. Made up of 64 single-screen platform levels where your object is simply to clear the screen of fruit, Chefs adds a few minor new elements and changes to the original design, but to all intents and purposes this is Qwak 2004, except that the player's avatar is now a cook instead of a duck.
The graphics, like the original's, are small but beautifully packed with colour and character, and the wraparound levels are simple but fiendishly designed. At first it seems overly-easy, especially on the default middle difficulty setting, with enemies that just do their own thing rather than chase you and a plentiful supply of extra lives to add to your generous initial allocation, but it's all too easy to lose four in about 20 seconds if you're not giving a level your full attention, and with no continues it'll take a lot of skill to get through every stage. There are also two different two-player modes – a co-operative game and a best-of-seven-stages highscore battle mode, and generally there are many hours of fun to be had for the money, though 12 quid seems a little steep for a game whose setup file is only 1.7MB big.
So how to solve the reviewer's dilemma? Well, since this is essentially the same game your reviewer played in 1993 he's going to give it the same score he did then, except with 20% deducted for the flagrant theft of someone else's work without so much as a nod of credit. (Adding insult to injury, the website describes Superstar Chefs as "similar to Bubble Bobble and Mario Bros", two games which the game is nowhere within a mile of as similar to as it is to Qwak.) It's a super little game, but this kind of thing really has to stop.
PC ZONE VERDICT: A good ripoff of someone else's genius. 69%
http://www.arcadelab.com/chefs.html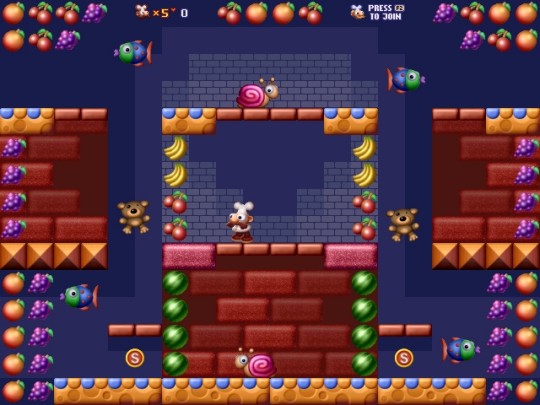 You just don't see colours like that anymore.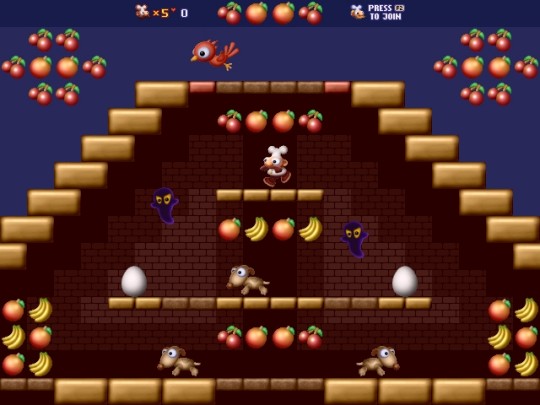 An odd situation for a chef to be in.
FREE PLAY - MARIO FOREVER
Well, after all that wibbling we haven't got much space left to tell you about this month's Free Play game, so it's lucky that it doesn't take a lot of explaining. The PC's seen a fair few attempts at Mario knockoffs, but this one from a Polish outfit Buziol Games is easily the most accomplished one to date. Borrowing graphics and music from the SNES Super Mario All Stars and Super Mario World, but creating new and original level designs in the style of the original Super Mario Bros, this hybrid is almost as captivating as the real thing, though the scrolling and controls could both stand a little extra smoothness. Every bit as much a clone as this month's commercial indie effort, of course, but this one doesn't try to either disguise its origins or profit from them.
http://www.acid-play.com/download/super-mario-3-mario-forever/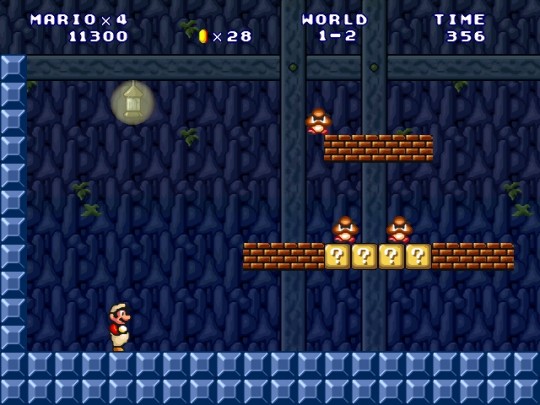 "How do I keep getting into this?"

INDIE ZONE - ISSUE 148 (Dec 2004) or GOD SAVE THE QUEEN

One of the things that's been most sadly lost in the games industry's transition from a million bedroom coders to half-a-dozen global corporate megabusinesses is the distinct flavour of Britishness in videogaming. Dear old Blighty was once a huge creative force in the world of games, pushing back both the technical and artistic envelopes in a way that US or Japanese developers never seemed able to do. Tragically, all the legendary innovators of the 8-bit and 16-bit eras have now been either marginalised or driven out altogether (see last month's interview with Sensible Software's Jon Hare for an example), and only the indie scene remains as an outlet for the UK's inventive gaming minds.
DEADEYE
Redpoint, £5
Min spec: Anything more powerful than a ZX81.
Alert readers may have noticed this column's fondness for old-school arcade-style shooting games, but even Indie Zone's never gone quite this retro before. Deadeye is an unashamed homage to the classic single-screen coin-op shooter from the age of Galaga et al, but in gameplay terms this is no simple remake. As the name suggests, Deadeye is a game all about precision – if you blast away like a redneck with a chaingun, you'll get through the game's 50 levels, but you'll end up with a score that will make six-year-old girls point at you and laugh. Deadeye rewards players lavishly for two things – not wasting bullets, and taking risks. Wait until the enemies are almost on top of your ship before you zap them, and shoot without missing, and you'll rack up enormous bonuses, as well as other goodies like score multipliers and shields, which can be used to glean even more bonuses, and so on.
This is a game designed for true aficionados of the Galaga-style form, and as well as being disturbingly addictive in its own right, it's packed with secret things to discover and unlock even if you can't get near the colossal scores on the online high-score page. Only the presentation lets it down slightly – the unadorned, non-resizeable game-screen looks a bit forlorn on desktop resolutions higher that 1024x768, and there's no full-screen option – but this is a game with hidden depths that it'll take you weeks to get anywhere near mastering, while still being simple and friendly enough not to crush you like a bug if you aren't totally hardcore. At five quid, not giving it a go would be not only stupid, but frankly offensive.
PC ZONE VERDICT For the purist, the purest. 90%
http://www.wayoftherodent.com/gd101/bs_deadeye.htm - homepage, with 15-level demo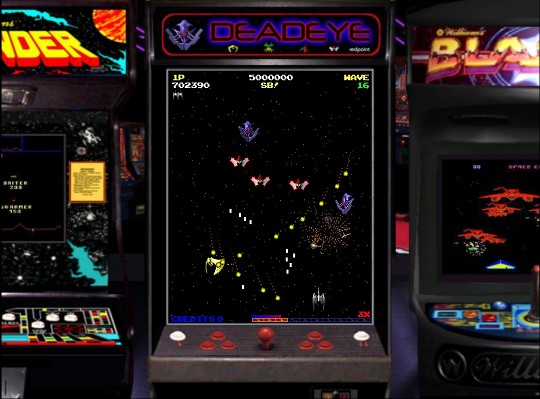 So old-school it'll give you lines if you're late.
FREE PLAY - WILD WEST HERO (Skyclad Monkeys)
Only the British could look at the seminal Williams coin-op Robotron and decide, "Y'know, the problem with this is that it's too complicated and intellectual". So in 1983, Spectrum coder Paul Holmes came up with a game that - like Deadeye - stripped the concept down to its absolute rudiments and chucked away all the frippery, leaving only the Zen-like core at the heart of the gameplay. Wild West Hero presented just one type of enemy, in ever-increasing numbers, and a little robot dude whose gun fired automatically, leaving nothing for the player to do but enter a trance-like state below conscious thought, and endlessly slaughter the bad guys until being finally overwhelmed.
The game's only problem was that the Speccy's technical limitations rendered later screens unfathomable, as the enemy sprites XORed each other out of existence, leading to the player being unfairly killed by what looked like empty space. Luckily, an alert historian has solved that problem with this splendid PC remake, almost indistinguishable from the original except with baddies who don't disappear from sight if two of them are standing on the same spot. This is a game you can play without employing your higher brain centres at all, and if you're a competitive gamer seeking that elusive mental place known as "The Zone", in which most victories are found, then Wild West Hero is the best training for finding it that you could ever hope for.
http://www.geocities.com/wildwesthero2004/ - updates and other games from the author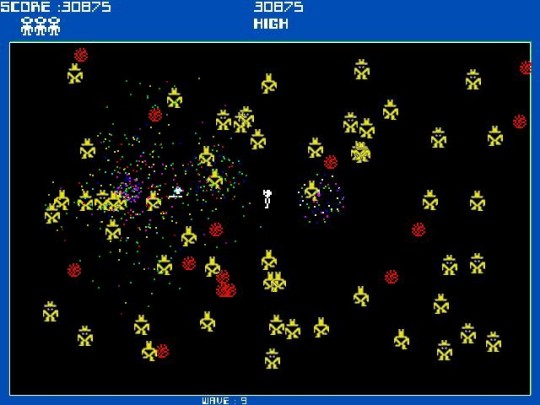 Don't think about them. Destroy them.