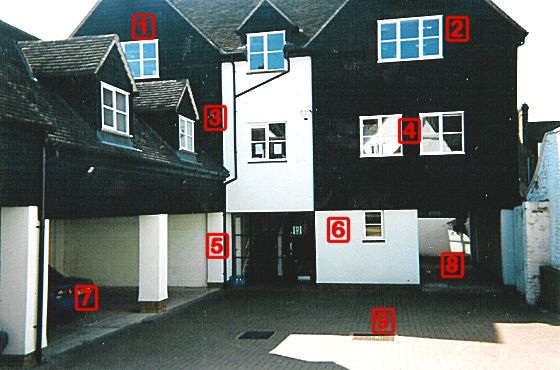 1. Upper left office, occupied by myself and Jonny Watts of the CF2 team, along with various others at different times. Bright and airy, with windows on three sides and a nice view (picture below) across the courtyard and rooftops towards Saffron Walden's big old medieval church.
2. Upper right office, occupied by Jops and Chris Yates when they were in. If they weren't, technically I was in charge. (Not that Sensible was very big on hierarchies of authority. The whole time I was there I never really had an official job title, though if people asked and I had to come up with something, I said "Development Manager".)
3. Middle left office. This was the only room where smoking was allowed, and was occupied by Jools and JL. Lacking a window on the courtyard side (the offices over the car ports weren't part of Sensible at the time), it was dark and gloomy, and reeked chokingly of stale cigarettes and two-day-old takeaway curries, making any extended periods of time spent liaising with CF2's programmer and main artist a trial. Tip: breathe through your mouth.
4. Middle right office, home to Chris "Chipper" Chapman (programmer of Sensible Soccer and SWOS) and artist Stoo Cambridge. Chipper lived, worked and slept in here for the entire last two weeks of SWOS's development, with unsurprising hygiene consequences.
5. First left from the entrance, through a small vestibule, was the games room.
6. Kitchen, home of healthy programmer snacks. (ie Pot Noodles and beer)
7. Car parking area. Normally a repository of a dizzyingly lavish collection of expensive autos, including Chris Yates' pillar-box-red Turbo Esprit, Jops' shiny silver Lexus, musician Chris "CD" Denman's dark red Toyota MR2 and Jools' canary-yellow Porsche 968CS, but I was usually first in in the morning, so at the moment there's only my lovely blue Mazda MX-5.
8. Car port, leading to the back alley, which was connected to the games room by a window, through which Jonny Watts and I legged it after smashing up Chris Yates' fruit machine.
9. Courtyard, in which the entire team would sometimes gather to play football. The high wall to the right was a blessing on such occasions.